Trump's America: As Trump leaves his business empire, Wall Street moves to the White House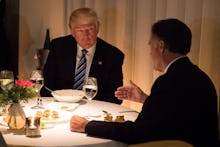 This is Mic's guide to Donald Trump's America — and how it affects you. 
Key Stat:
— 8/15, the number of cabinet nominations Trump has made. 
Highlights: 
Today: The secretaries of treasury and commerce were announced Tuesday morning. Hedge fund banker Steve Mnuchin will run the Treasury, and "king of bankruptcy" Wilbur Ross will head Commerce.
More: Per the president-elect's Twitter, Trump will leave his businesses before the inauguration.
Even more: Jill Stein paid Wisconsin $3.5 million to conduct a recount.
Where's Trump? Holding transition meetings in Manhattan's Trump Tower.
Hillary Clinton's lead over Trump in the popular vote: 2.4 million votes, 1.8 percentage points greater than Trump. (Cook Political Report)
Trump to leave his businesses
After weeks of questions about whether Donald Trump would both govern the nation and retain control of his business empire, we have an answer: The president-elect will step away from business operations.
Had he not decided to sever ties with his companies, the risks would have been great. Trump faced myriad domestic and foreign conflict-of-interest issues, some in violation of the Constitution.
But Trump's not in the clear yet: While he said he will be taken "completely out of business operations," he plans to make the official announcement at a news conference "with [his] children." Legal experts have said transferring Trump's businesses entirely to his children, or letting them manage his assets while he's in office, does not resolve conflicts of interest, given the role his children have in his inner circle.
Mic explains why Trump's promises this morning might not fix the real problem. Before Trump's Wednesday morning tweets, Mic spoke with the senator pressuring Trump to truly cut ties to his business empire.
Populist Donald or the Trump of Wall Street?
While Trump severs ties to his businesses and brands worth an estimated billions of dollars, he is keeping other money close. Trump reportedly appointed two financial industry insiders to positions that oversee the economy. News leaked Tuesday night that Trump will nominate Steve Mnuchin to be treasury secretary and Wilbur Ross to be commerce secretary. While you may have never heard of them, both are astute investors who made money profiting off failures in the American economy.
Steve Mnuchin, secretary of treasury
Mnuchin is a government outsider who was Trump's national finance chairman during the campaign. He worked at Goldman Sachs before moving into investing billions of dollars in hedge funds. If you've seen Mnuchin's name before, it may be because it flashed on screen during one of the movies he produced, including Batman v. Superman. In the political sphere, Mnuchin may be best known for profiting up to $200 million through astute — if controversial — investments during the financial crisis. (Mic)
At the Treasury, Mnuchin will be in charge of bank regulation, tax policy, managing economic growth and much more. (Mic) He will be fifth in line to the presidency.
What his proponents are saying: Mnuchin is an experienced financial manager who can bring a successful business record to management of the American economy. What his opponents are saying: Mnuchin is a Wall Street insider who made millions of dollars off of thousands of Americans losing their homes. He is not who should be regulating the banks. And his company may have discriminated against minorities during the recession.
Wilbur Ross, secretary of commerce
Trump has tapped the "king of bankruptcy" to oversee management of America's trade deals, another move that suggests the president-elect is serious about following through on his campaign promises on NAFTA and the Trans-Pacific Partnership. Ross is both loved and loathed for buying failed companies and turning them around at a profit, a practice that has grown his net worth to $2.9 billion. He has saved some failing coal and steel companies, but has also shipped manufacturing jobs to China and Mexico. (Mic)
At Commerce, Ross will oversee America's trade agreements. And like Trump, he seems more than happy to tear them up. But pulling the U.S. out of NAFTA and backing off TPP won't necessarily save jobs — and could mean higher costs for American consumers. Mic explains.
What his proponents are saying: Ross knows how to take something broken and make it work again. He will apply those talents to the American manufacturing sector and guarantee fair trade agreements. What his opponents are saying: Ross profits off of failure and, by opposing free trade, will put America behind in the global economy.
Meanwhile, Trump and Romney grabbed an *uncomfortable* bite to eat
A single image can say so much. 
The former bitter rivals — Mitt Romney gave a speech in March where he called Trump "a phony, a fraud" — dined quietly on scallops, sirloin and lamb chops in New York City on Tuesday evening. After dinner, Romney told reporters he felt hopeful that "president-elect Trump is the very man who can lead us to that better future." Despite public backlash from some of Trump's senior advisers, Trump seems to be seriously considering Romney for secretary of state. (Washington Post)
All this schmoozing with Wall Street elites begs a question: How does appointing hedge fund managers and the "king of bankruptcy" to oversee the economy "drain the swamp?" We explore that in today's A View From Trump Country.
News and insight you cannot miss:
— Jill Stein's crowdfunded recount effort was not a scam, at least in Wisconsin. She paid the state nearly $3.5 million on Tuesday to move the recount forward. (ABC News)
— Tom Price, Trump's pick to oversee American health care at the Department of Health and Human Services, is no friend of reproductive rights advocates. "The congressman has a lengthy record of opposing abortion access, reproductive rights and civil rights for women and LGBTQ people at every turn," Mic's Jenny Kutner writes. (Mic)
— Trump will reportedly announce Thursday that 1,000 manufacturing jobs will stay at an air conditioner facility in Indiana, delivering on a campaign promise to keep those jobs in the U.S. But as economists pointed out on Twitter, that move doesn't necessarily loom large in America's overall unemployment picture. (New York Times)
— The motive behind the flag burning tweet: Apparently, Trump watched a Fox News segment on flag burning, and decided to weigh in on Twitter. (Katherine Faulders)
— How Trump manipulates us with his Twitter feed, per David Von Drehle in Time. (Time)
— Untruth of the day: Almost two days after the attack at Ohio State University, Trump finally weighed in. "ISIS is taking credit for the terrible stabbing attack at Ohio State University by a Somali refugee who should not have been in our country," he tweeted early Wednesday. Fact check: ISIS did claim responsibility for the attack, but the group did not offer any evidence to prove it had organized it. Abdul Razak Ali Artan was a Muslim born in Somalia, but he was a permanent legal resident of the U.S. with no history of violence or ties to terrorist groups — offering no red flags to suggest he "should not have been in our country."
A view from Trump country: How will Trump's base respond to Wall Street hires?
The conventional wisdom goes like this: Americans voted for Trump to "drain the swamp" and put an outsider in the White House. So how could they support the hiring of Wall Street insiders? A progressive financial reform analyst told Mic these hires were a "betrayal" of Trump's supporters and his populist promises to them.
But it may be more complicated than that: Trump can still argue Mnuchin, Ross and others he appoints are outsiders because they do not come from the Washington establishment — though they have long influenced politicians and the financial sector. And as Trump proved throughout his campaign, details may not matter. Mnuchin's role profiting off the financial crisis or Ross' billions of dollars generated through fixing failed companies may not break through.
Something else to remember: Trump's supporters were not primarily concerned about economic issues. More than half of voters nationally said the "economy" was the most important issue facing America — and Clinton won that group by 11 percentage points, according to exit polls. Trump supporters were more focused on immigration and terrorism. And the specifics favor Trump's appointments: His supporters are far more likely to believe free trade "takes away U.S. jobs" than Clinton voters, just like the billionaire the president-elect tapped to oversee American trade deals.
Same subject, two views: Does free trade hurt the United States?
Trade agreements benefit consumers and producers, Jeffrey J. Schott says in the New York Times: "Many of the products that are produced in the United States are cheaper and better because they have imported components and raw materials, improving their quality and lowering their cost. Trade thus boosts the competitiveness of products made at home, which, in turn, allows American producers to sell more abroad and employ more workers in the U.S." (New York Times)
They increase trade deficits, which have led to job loss, Robert E. Scott writes in the New York Times: "Over the last 20 years, trade and investment deals have increased U.S. trade deficits and cost Americans their jobs. The agreement allowing China into the World Trade Organization led to trade deficits that eliminated 3.2 million jobs between 2001 and 2013 alone." (New York Times)
The loyal opposition: All eyes on Pelosi
Democrats are expected today to reelect Nancy Pelosi as their leader in the House. But since the Californian has led the Democrats since 2003, some are looking for a change. BuzzFeed reports more than a dozen Democrats are breaking ranks to potentially support the long-shot leadership bid of Rep. Tim Ryan, an Ohioan from steel country who argues Democrats need to reconnect with their traditional working class base. But Pelosi's "iron grip on the caucus" could loosen if she does not win the leadership vote by a wide majority, Politico reports.
The battle, also playing out over leadership of the Democracy National Committee, is fundamentally a matter of what Democrats must do to recover after a devastating presidential loss. Any blow to Pelosi's authority, even if she wins, would demonstrate  that one wing of the party will defy authority to push change.
Snippets
— What happened to Ben Carson and HUD? Carson will reportedly accept Trump's offer to become secretary of housing and urban development. (HousingWire)
— Hungry for more information on the man who will overhaul, if not destroy, Obamacare? Here's what you need to know about Tom Price. (Mic)
— The same day Trump nominated Mitch McConnell's wife to become transportation secretary, the Senate majority leader slammed Trump's tweets on flag burning and voter fraud. (Mic)
— After the news that Dakota Access Pipeline protesters may be forcibly removed from their camps at Standing Rock, thousands of veterans have said they will act as human shields to protect protesters. (Mic)
Stay up-to-date on America's changes under President-elect Donald Trump with this newsletter. Every weekday we'll cover the biggest Trump news and how Americans have supported him, opposed him and more.