'Game of Thrones' season 7: Sophie Turner warns about Sansa Stark's "power trip"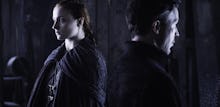 As much as it pains fans of HBO's hit series Game of Thrones, the reality that there are only two shortened seasons left before the show comes to an end is beginning to sink in. Fortunately, the next two seasons are poised to be the most exciting yet, largely due to recent steps forward from several of the series' major players. For instance: It has been a long time coming, but Daenerys Targaryen is finally sailing for Westeros! 
As exciting as Daenerys' long-awaited journey west is, it's just one of several lingering storylines following the season six finale. When season seven finally returns, the North, for the first time in quite a while, will be rightfully in the hands of the Starks. This comes after the forces led by Jon Snow defeated Ramsay Bolton — with help from Littlefinger, of course. 
With Ramsay defeated, Sansa Stark was finally able to exact revenge on the man who tormented her for so long, by imprisoning Ramsay and feeding him to his own starving dogs. (You know what they say about Karma, right?) 
Sansa's character has evolved quite a bit over the series' six seasons, but this is the first time she has found herself in a position of power — rather than a pawn in the strategies of other Game of Thrones power-players like Cersei and Littlefinger — a fact not lost on Sophie Turner, who's played Sansa since 2011.
"She's seemingly in control for the first time — and it really suits her," Turner told Entertainment Weekly. "She's kind of having a bit of a power trip. But she's also becoming more insecure, because there are threats to the power that she holds."
Turner is also aware that many of the series' characters, who have largely spent time apart, are about to have their stories converge in an exciting way. 
"What overall excites me about this season is that main characters are coming together and it feels like things are ramping up," the actress explained. "It's really exciting and all feels like it's coming to a big conclusion."
When season seven of Game of Thrones returns next summer, Sansa will not be the only character with newfound power. Cersei Lannister was crowned Queen of the Seven Kingdoms after her son, Tommen, commit suicide. Of course, said suicide came after Cersei wiped out most of her enemies — Tommen's wife included — in one fell swoop.
How Cersei will respond to Sansa's ascent to power — and vice versa — are just some of the many questions left open in the wake of an explosive sixth season. Summer 2017 cannot get here soon enough.