Two students sue Kansas State University for not investigating alleged off-campus rape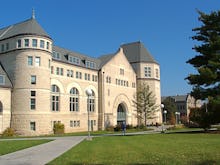 Kansas State University students Sara Weckhorst and Crystal Stroup filed a joint civil suit on Monday against the college, alleging that the university officials' failure to investigate Weckhorst's 2014 sexual assault case led to the rape of Stroup a year later.
According to court documents reported on by the Washington Post, Weckhorst was assaulted by multiple K-State students during a fraternity event and later at a frat house — two off-campus locations she says the school deemed beyond its purview in adjudicating sexual assault. Despite Weckhorst's pleas for the university to investigate the case, the complaint alleges that campus officials "adamantly refused" to do so.
"Sara was left to languish on campus in constant fear of encountering the two unpunished, emboldened student-assailants — or worse — fear that either one would rape another, unsuspecting K-State student," the document reads.
What happened, Stroup says, was exactly that. 
Stroup alleges that in 2015 she was raped by Weckhorst's third assailant, identified in the Post as Jared Ralph Gihring, after she and her roommates invited him to their off-campus apartment. According to the complaint, Gihring attacked Stroup after her roommates left him to care for Stroup, who was in an "extremely intoxicated state." 
"I was the 'somebody else,' and that really hurt," Stroup told the Post.
The university later expelled Gihring, who was arrested and currently faces criminal charges for the assaults of both students. However, Weckhorst and Stroup's case raises two crucial questions for K-State and for universities across the country: How do schools investigate assaults that happen beyond campus bounds? And how do schools remove rapists from campus before they strike again?
The first of those questions has a rather straightforward answer: In a U.S. Department of Education document explaining how to handle Title IX cases, it is stated point-blank that all universities must "process all complaints of sexual violence regardless of where the conduct occurred" — off-campus locations included.
The document goes on to state that schools should treat off-campus sexual assaults in the same manner they would treat those that occur on school grounds. 
According to the Post, K-State is just one of over 200 universities currently being investigated by the Department of Education for alleged mishandling of Title IX cases.
When Mic reached out to K-State officials for comment, vice president for communications Jeff Morris said the university does not comment on pending litigation. 
"We are aware of the filing and will respond to it through our court filings, which will be publicly available," Morris' statement continued. "K-State provides support and assistance services to all reported victims of sexual assault, regardless of where the assault is reported to have occurred."
A campus climate assessment commissioned by K-State tells a different story. According to court documents, multiple students have testified to university officials' neglect of sexual assault victims. 
Two students said they were made to feel as though their assault was their own fault, while another was allegedly urged to "let it go." Another student wrote: "K-State did absolutely nothing to help me." 
Weckhort's legal counsel maintained she had done everything "sexual assault victims are encouraged to do." She reported her rape promptly, sought emergency care and subjected herself to a rape kit. Still, it wasn't enough to prosecute her rapist, or prevent him from allegedly raping another woman.
"K-State turned its back on her," the court document states. "Sara wants to continue her K-State education, but doing so means facing emboldened student-assailants who know K-State will protect them, rather than the victims of their attacks."