'Final Fantasy 15' PC Release Date: Could it happen?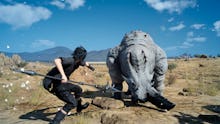 After countless iterations and delays, Final Fantasy 15 is finally available for PS4 and Xbox One, but a PC release still has yet to be announced. It's certainly an enticing idea. This a gorgeous game that could really shine on a high-end gaming PC, but right now it's nothing more than wishful thinking. So, could it happen? Let's discuss.
Final Fantasy 15 PC release date rumors
Though Final Fantasy 15 director Hajime Tabata has not announced a PC version of the game, in March he said Square Enix was "considering" it.
"Unfortunately we weren't able to do simultaneous development on a PC and console version for [Final Fantasy 15]," Tabata told Engadget then. "We had to focus on the console version and our goal was to maximize, optimize everything for the HD consoles. Once that's done, then we will definitely take a good, hard look at PC and what we need to do, and consider all our options. But right now we aren't decided, we're still considering a lot of things."
Now that Final Fantasy 15 is finally out for PS4 and Xbox One, Square Enix might be ready to commit more resources to a PC port of the game. Then again, this is all just speculation. So try not to get your hopes up.
Square Enix still has a lot on its plate for the current console versions of the game. There's a whole slate of downloadable content on the way that will introduce an online co-op mode and specific missions that make Prompto, Ignis and Gladiolus playable characters, according to Kotaku.
There's certainly precedent for PC versions of Final Fantasy games: Several games in the series are currently available on Steam. Those of you hoping for a PC version of Final Fantasy 15 will just have to keep on hoping, but Mic will keep you updated if anything is announced.
More Final Fantasy 15 rumors, news and updates from Mic:
If you're ready to get your bromance on, you'll want to read up on all of Mic's Final Fantasy coverage, including a review roundup of Final Fantasy 15, the juicy details on gay Noctis/Prompto fan art, a guide to fishing in Final Fantasy 15, Conan O'Brien's reaction to the game on his show, its psychedelic "Omen" trailer and information about the other big Final Fantasy game out this year: World of Final Fantasy.