6 unique restaurants in Canada that blur the line between food and entertainment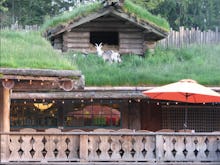 From Victoria to Nova Scotia, there's something for every kind of adventurer between the Canadian coasts. While the world's second largest  land mass offers plenty of outdoor action, Canada's major cities boast a variety of unique dining experiences that are just as adventurous. Here are seven restaurants that transport you beyond the dining table.
1. The Sultan's Tent & Café Moroc
Inspired by scenes from the classic movie Casablanca, Toronto's The Sultan's Tent and Café Moroc curates the ultimate experience of romance and celebration. Jewel-colored fabrics and furniture carve out intimate spaces, wooden floors with plush rugs are dotted with potted palms at every corner and ornate lanterns are hanging from elegant archways and high sweeping ceilings. The ambiance is informed by the confluence of cultures in 19th century Morocco, the geographical crossroads of Europe, Africa and the Middle East, resulting in an incredible blend of sights, sounds and tastes brought to life each night.
2. O.Noir
O.Noir inspires your imagination and stimulates all of your senses — except one. Inspired by "dark dining" pioneered by Jorge Spielmann, a blind pastor who would blindfold his dinner guests so they could share his eating experience, O.Noir invites guests to dine in the dark, attended to by a staff of blind servers. The experience aims to heighten your remaining senses to savor the smell and taste of the food as you wouldn't ordinarily while celebrating the visually impaired community. 
3. The Great Viking Feast
If you're keen to embrace your inner Thor, the Great Viking Feast is the place for you. A traditional Viking meal held in the renovated Lightkeeper's House in St. Anthony in Newfoundland, the Great Viking Feast is an invitation to an "Althing," an annual gathering in a Viking court of law to settle grievances.
Hosted around communal tables, the patrons are invited to bring charges to settle a feud, and the audience decides who is at fault. It is a glimpse into the Viking justice system overseen by staff and servers in full Viking costume, and the food is a buffet of traditional Newfoundland fare such as Jiggs dinner (a traditional corned-beef-and-cabbage meal named after the hero of a popular comic strip), moose stew, cod tongues, fish and brewis (hard bread that's been soaked and boiled), roast beef and squid fried rice. Keeping with Viking tradition, your dinner comes without a fork, which the old Norsemen considered a weapon, but you can ask your waiter to slip you one if the spoon isn't cutting it.
4. Revival House
One of Stratford, Ontario's best live music venues, Revival House is a beautiful stone church-turned-fine-dining-restaurant that boasts a culinary experience with sonorous entertainment. Serving delicious dishes using local, seasonal and sustainable ingredients, chef Loreena Miller crafts a French-style menu with a modern sensibility.
The former Baptist church has three separate dining offerings — the main dining area being Revival, with vaulted ceilings, stained glass windows and an old pipe organ behind the bar. A gastro-lounge upstairs called the Belfry creates an intimate space for smaller groups and light dining, and the speakeasy-style Confession VIP lounge is a third intimate area for patrons within the venue.
5. Kaiseki Yu-zen Hashimoto
For food connoisseurs, Kaiseki Yu-zen Hashimoto in Toronto is an unmissable experience. Kaiseki is a traditional Japanese multi-course dinner, the word meaning "a very long history," referring to the time it takes for chefs to master the culinary skills to be able to create the food. Kaiseki meals are the standard of gourmet cooking in Japan, and the chefs have preserved and passed on culinary secrets through generations of legacy chefs. 
The meal is imbued with the spiritual hush of the Japanese tea ceremony and provides diners with the ability to focus their senses to appreciate the ingredients, the aromas and the artful final product. For this reason, kaiseki meals are expensive, and this restaurant is among the most expensive fine dining experiences in Canada.
6. Old Country Market
Who doesn't love a goat on a roof? Serving specialty items from around the world, Old Country Market in Coombs, British Columbia, features a Norwegian-style sod roof with goats grazing/lawn-mowing about while you enjoy your meal. The gourmet market, famous for its international foods, houses interesting gifts and an excellent bakery, restaurant and deli with fresh produce. The establishment is a welcome respite for weary travelers who visit the small town of Coombs, if only to see the goats on the roof. 
Correction: Dec. 12, 2016