Nancy Pelosi wins another term leading House Democrats, defeating challenger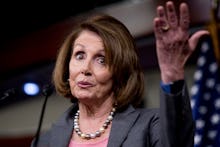 House Democrats chose Nancy Pelosi to lead their party into the Donald Trump era, despite the most serious challenge to Pelosi's authority since she became Democratic leader in 2003. 
Pelosi won re-election as House minority leader by a margin of 134-63, more than the two-thirds support among Democrats whom Pelosi said she had earlier this month, Politico reported. 
Rep. Tim Ryan, D-Ohio, challenged Pelosi for the leadership position. Though Ryan has never held a position of leadership in the Democratic caucus, he said he challenged Pelosi to draw attention back to his party's roots among working Americans. That message came in the wake of Trump's victories in Pennsylvania, Michigan and Wisconsin, Rust Belt states Democrats had not lost since the 1980s. 
By picking Pelosi, House Democrats went with a steady leader who has held a firm grip on the caucus for more than a decade. Pelosi, the first woman to the speaker of the House, was instrumental in shepherding through early Obama-era legislation like health care reform. She has been a longtime supporter of same-sex marriage, reproductive rights and other progressive issues. 
While never likely to succeed in unseating Pelosi, Ryan and other House Democrats hoped to deprive her of the support of two-thirds of the Democratic caucus. A similar fight over the soul of the party is playing out at the Democratic National Committee, where Democratic Rep. Keith Ellison of Minnesota is battling opposition, including from the White House, for his bid to lead the party apparatus.
Republicans will hold an edge of 241-194 seats in the House in the new Congress.