7 transgender models on why it's so important for them to be seen right now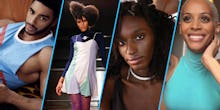 Transgender visibility in media is at an all-time high. There are celebrities like Laverne Cox, who has a starring role on Netflix's hugely popular Orange is the New Black. There have been award-winning movies and television shows focused around trans people including Tangerine and TLC's I Am Jazz. At the Democratic National Convention this year, Sarah McBride made history by being the first out transgender person to address a major political party's convention. 
But amidst all this progress, perhaps the less discussed shift is the obvious surge of transgender models walking the runway and booking campaigns. This past fashion week saw more transgender models booked than ever before. 
To get a peek into this ever-growing industry, Mic spoke with a number of trans models working today. In the previous edition of this series on trans modeling, the models talked about why 2017 will be their year. This time around, they speak out on why it's so important for them to be seen right now. 
For some, it's important because it opens the doors of possibility to people like them. For others, it's important because it highlights trans people's presence in everyday culture. And in one impassioned plea, model Torraine Futurum said that it's important for trans people to be seen not just for the sake of their own validity, but to save lives. 
Laith De La Cruz
"Paving the way sounds like a lot but for me, but being one of the first trans guys, I'll open the doors for guys in the future," Laith De La Cruz, who appears on the trans modeling show Strut and made history in May for being the first trans man on the cover of Attitude, said. "Guys like me will be able to see me succeeding and know they can too." 
Isis King 
"Trans people have been around here since the beginning of time, and we have to work twice as hard to get half the work and be seen," Isis King, who was the first trans model to appear on America's Next Top Model and recently appeared in an episode of the TV show Shameless, said. "We just want the choice to be normal and equal and show you that we can get the job done. And in doing so, you open the door to young trans women of color. The younger people will have it a lot easier. I see so many young people are passionate and they're like, 'You give me confidence.'" 
Benjamin Melzer
"It's important because it sends the message of inclusion and progress to the world," Benjamin Melzer, who's modeled for Diesel and who was the first transgender model on the cover of Men's Health in Germany, said. "I don't want to be booked for a job just because I'm trans. I want to be booked because I am qualified. Being seen and working is all part of building your brand whether your trans or not. It all comes down to working hard and being given a shot."
Maya Monès 
"There has to be some sort of step forward so we don't take any more steps back," Maya Monès, who's walked for Gypsy Sport and Chromat and has appeared in a spread for CR Fashion, said. "It's on us to represent ourselves and talking about ourselves and making sure people realize we are just like them." 
Loiza Lamers 
"Being a transgender model is so much more complex than people realize," Loiza Lamers, who has also modeled for Diesel and made history as the first trans model to win Holland's Next Top Model, said. "On one hand, you're proud of being trans and want the world to know it, but from the minute you say you're trans you know it could possibly overshadow you as a model and throw you in a box. Working and being seen as much as you can is the only way to overcome that." 
Arisce Wanzer
"Representation is holding us back," Arisce Wanzer, who also appears on Strut, said. "Seeing leads to liking. So when seeing us more often, it's like they can see us and be like they're out there and normal. We shouldn't just be on runways but we should be selling cereal and toilet paper, so people realize how normal we are." 
Torraine Futurum
"I will talk to trans people and trans people only when I say this," Torraine Futurum, who's modeled for Gogo Graham and Gypsy Sport and appeared in Carly Rae Jepsen's music video for "Boy Problems," said. "If you are trans and want to be a model then please go for it. And keep trying. And be the best. Work circles around these cis models. Your visibility is important for your own validity."
She continued: "Being trans and a model is not going to save the world or make us more human to cisgender people. However, your visibility will touch the lives of other trans people who need to see folks like themselves thriving. Our visibility helps save the lives of our trans siblings. And those two things are all I care about. If you're cisgender and reading this: I am not talking to you. This is for us."