How to change your Wi-Fi SSID and hide your network to avoid being hacked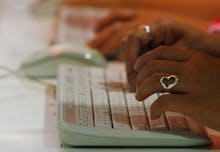 Wi-Fi contains one glaring flaw: it's vulnerable to hacking. The range of connectivity means people down the hall or across the street can access your network. Even if it's secured with a password, proficient hackers can bypass your network and infiltrate your computer devices. Fortunately, there are two simple techniques you can use to scare away potential cyber criminals.
Change your Wi-Fi SSID 
SSID stands for Service Set Identifier, but really it's just a technical term for a network name. Upon installation, an internet service provider will either assign a random SSID or the network will simply take the name of the router brand (i.e. "Linksys"). 
When hackers are looking to gain entry into a network, they'll most likely target these default SSIDs because it indicates the user either isn't competent enough to change the SSID or simply didn't care to — thus suggesting the network owner has their guard down. Altering your SSID is an easy way to ward away potential hackers. 
The most common way to open your Wi-Fi router's settings is to type "192.168.1.1" into your web browser. From here you should receive a prompt to enter the router's user name and password. If this doesn't work, double check your router's manual to ensure the correct instructions — if no physical manual is available, a quick Google search should be able to locate one online. 
Once you're logged into the router's settings you'll be able to change the SSID. Each router has a different set of menus, but usually SSID options can be found within the basic wireless settings. Here comes the fun part: choosing your new network name. Some go the funny route with SSIDs like "Pretty Fly for a Wi-Fi" or "The LAN Before Time." Whatever you decide, just make sure don't include any personal information in the network title such as your name, address or any other sensitive material. 
Hide your Wi-Fi network
If you want to take additional measures to secure your Wi-Fi, you can hide your network from public viewing altogether. Start by entering the same "192.168.1.1" number (or whatever number your router uses) to access the router's basic settings. There should be an option to Enable SSID Broadcast, or it could be listed as Visibility Status or Hidden Wireless. Once you locate the appropriate option you simply need to uncheck this box and your Wi-Fi will be undetectable going forward.
Now when someone wants to connect to your Wi-Fi network, they'll have to know what it's called and manually type it in.