Spotify says Drake is the most-streamed artist of 2016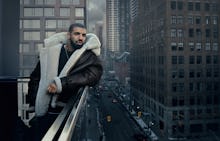 Spotify users voted with their ears this year, and their choice is clear: Drake was the most-streamed artist on the service in 2016.
As outlined in Spotify's 2016 Wrapped report, sent to Mic Wednesday, Drake not only came in as the year's most-streamed artist across the globe, he also took home most-streamed album and track, too, for his record Views and single "One Dance."
Joining Drake in the top five most-streamed artists were Justin Bieber, Rihanna, Twenty One Pilots and Kanye West. As the only woman among the five, Rihanna also lays claim to the title of most-streamed female artist on Spotify. Ariana Grande came in second on that list, followed by Sia, Adele and Fifth Harmony.
Looking back, Drake's supremacy on the chart is not a surprise. Earlier this year, the Canadian rapper beat Justin Bieber's record for most-streamed artist of all time. (At the time, Drake's music had been streamed 3.19 billion times — but that was only in May.) Drake also came out on top in July when comparing how many people stream his songs on Spotify vs. his rival Meek Mill's.
Aside from Drake's dominance, some of the most interesting tidbits can be found elsewhere in the report. Zayn Malik was the number-one most-streamed breakout artist — helped almost certainly by his previous work with One Direction — and Mike Posner's "I Took a Pill in Ibiza" came in second on the most-streamed tracks list.
In the United States alone, Drake was still the number one artist, but the list changes slightly from there. Kanye West was second, followed by Rihanna and Twenty-One Pilots. Future takes the fifth slot; Justin Bieber fails to make top five.
More stats and playlists can be found on Spotify's 2016 Wrapped page.