Obama's Final Pardons: A short list of who could be granted clemency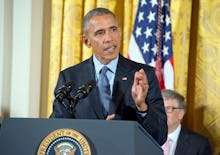 For better or worse, President Barack Obama is set leave the White House in a matter of weeks. Throughout his presidency, he has been more reluctant than his predecessors to use his power to grant full pardons — to date he has awarded just 70, according to the Department of Justice. 
But as his second term winds down, rumors have begun to circulate throughout Washington regarding just who may be in line to benefit from this controversial (and uniquely presidential) power of absolution. Here are some of the most popular theories being thrown around:
Hillary Clinton
Obama's plans for his former secretary of state is a matter of growing scrutiny in both traditional and social media outlets.
Some have argued that Obama should not pardon someone who has not been found guilty of a crime, lest it be perceived as an admission of guilt. Others say an outgoing pardon would be necessary to prevent President-elect Donald Trump from investigating her.
But perhaps the most compelling argument against Obama pardoning Clinton, since presidents rarely act to grant pardons on their own, is that she has never asked for one.  
DREAMers
This was a rumor that got shot down rather quickly. Even with a recommendation from House Democrats, CNN reported that the Obama administration does not see a bright future for the pardoning of the DREAMers, the children brought to to the U.S. by their immigrant parents without documentation. 
One White House official told BuzzFeed, "the clemency power could not give legal status to any undocumented individual." The official added "only Congress can create legal status for undocumented individuals."
Edward Snowden
The exiled NSA whistleblower is another name being considered as someone who should be pardoned.
Although advocates have created a petition that Snowden supporters can sign to urge Obama to go through with the pardon, it seems unlikely. 
Obama seems uninterested in granting Snowden clemency. He told German broadcaster Der Spiegel, "I can't pardon somebody who hasn't gone before a court and presented themselves, so that's not something that I would comment on at this point." 
Chelsea Manning
Manning, an Army private who was sentenced to 35 years in jail for sharing classified documents with WikiLeaks, is leaning on Obama to pardon her. Manning has already served six and a half years of her sentence which, the Washington Post reports, is longer than anyone in history has served for the same offense.
Manning filed an official petition Nov. 10 requesting a pardon, according to the Post.