Walter Scott: 5 other times police officers have walked after fatal use of force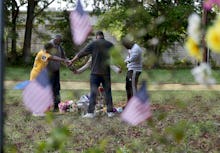 On Monday, jurors were unable to reach a consensus in the trial of Michael Slager, a South Carolina police officer accused of murdering Walter Scott, an unarmed black man, during a traffic stop in April 2015.
The mistrial serves as yet another reminder to activists and supporters of the Black Lives Matter movement that the likelihood of conviction for police in cases resulting in civilian death remains extremely low.
Police convictions for fatal force are extremely rare
A national study conducted in June found an average of 1,100 police officers are arrested each year. The study, which analyzed data from 2005 to 2011, found that 72% of officers charged in cases with known outcomes are convicted.
Since the 2014 killing of unarmed teen Michael Brown by officer Darren Wilson in Ferguson, Missouri, and the grand jury decision to clear Wilson of all charges, police shootings have been highly publicized to push for police reform. To highlight the lack of transparency surrounding fatal force and an increased demand for police accountability, the Washington Post created a database to track the number of people shot and killed by police annually.
Freddie Gray
In April 2015, Freddie Gray was arrested after fleeing from police. State prosecutor Marilyn Mosby reported that Gray had repeatedly requested access to an inhaler, which police ignored. After Gray was arrested, he was placed in leg irons and loaded into a police van without a seatbelt, which resulted in a spinal injury. Billy Murphy, a lawyer hired by the Gray family, reported that Gray's spine was "80% severed at his neck." The medical examiner, Dr. Carol Allan, testified that Gray's spinal injury was "not an accident" and stated unequivocally: "Mr. Gray's death was while he was in custody."
After a mistrial resulting from a hung jury in December, the state attorney's office ultimately declined to pursue remaining prosecutions for all the officers involved.
Keith Lamont Scott
In September 2016, Keith Lamont Scott was shot and killed by police who were searching for an unrelated suspect. According to the Charlotte Observer, authorities stated that Scott "posed an imminent deadly threat to the officers, who subsequently fired their weapon striking the subject." Scott's daughter insisted that he was reading a book, but no book was found at the scene.
R. Andrew Murray, the district attorney for Mecklenburg County, stated that the police shooting of Scott was "justified" and that no charges would be filed against Brentley Vinson, the officer who shot and killed Scott.
Rekia Boyd
In March, 2012, Rekia Boyd, 22, was walking with three friends near Douglas Park. Prosecutors said that off-duty Chicago police detective Dante Servin was upset by the group's noisiness and told them to quiet down. Servin then fired five shots over his shoulder while sitting in his car. Boyd was hit in the head from behind and killed. Servin claimed he opened fire because he mistook a cell phone for a gun.
Judge Dennis Porter cleared Servin on all four counts of involuntary manslaughter, reckless discharge of a weapon, and reckless conduct. In a written finding that the charges were not correct for the crime, Porter stated:
The act of intentionally firing a gun at some person or persons on the street is an act that is so dangerous it is beyond reckless; it is intentional and the crime if any there be, is first degree murder.
Servin's attorney, Darren O'Brien, stated that Servin could not be retried on a murder charge because of double jeopardy protections.
David Kassick
In February 2015, David Kassick, 59, was pulled over by officer Lisa Mearkle due to an expired emissions sticker on his car. Kassick fled on foot, and Mearkle pursued, tasing him. As Kassick lay face down on the ground, Mearkle proceeded to shoot him twice in the back, according to video footage captured by a camera attached to Mearkle's stun gun. Kassick was unarmed and pronounced dead at the scene.
A jury acquitted Mearkle of third-degree murder, voluntary manslaughter and involuntary manslaughter charges. In a statement to reporters after the trial, Mearkle expressed remorse and said "This has taken a toll on me that nobody understands."
Ramarley Graham
In February 2012, teenager Ramarley Graham was fatally shot in his Bronx home after police pursued him. New York Police Department's chief spokesman, Paul J. Browne, reported that Graham had struggled with plainclothes NYPD officer Richard Haste outside a bathroom in his home before he was shot.
In March 2016, federal prosecutors stated that there was not enough evidence to pursue criminal charges. However, the state of New York agreed to pay Graham's family $3.9 million after the family sued for emotional damages and their treatment by police following the shooting.