'Ink Master' season 8 finale could feature the first female winner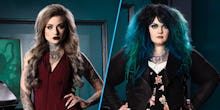 A first in Ink Master history occurred Tuesday night. Two female contestants from season eight moved forward to the live finale — something that has never happened before on the Spike reality show.
Season two competitor Sarah Miller was the first female artist to make it to the finale, and Tatu Baby followed in season three. However, there has never been two female artists in the finale at the same time. That changed during season eight, episode 15.
Kelly Doty, a member of Team Chris Nunez, was the first tattoo artist to land a spot in the live finale. Ryan Ashley Malarkey, after battling fellow Team Oliver Peck members Nate Beavers and Gian Karle Cruz, was the second artist to secure her place in the last episode.
"It's a girl fight,"  Nunez announced after Ryan's win.
While there have been numerous talented female Ink Master competitors, this is the first season where the women formed an alliance to make it to the end. Despite being on different teams, Ryan and Kelly worked closely with fellow competitors Nikki Simpson and Gia Rose to knock out other top artists. Gia made it to episode eight before being eliminated, while Nikki got sent packing during a shocking elimination in episode 14.
Although strong artists, the two women give credit to their alliance for helping them make it to the finale. They helped each other with canvas picks and encouraged each other when the competition got tough. However, all bets are off as they battle for the title of Ink Master and the $100,000 grand prize.
After Gian beat Nate for the final spot in the finale, host Dave Navarro revealed that each artist will have to complete a 24-hour chest piece for their final tattoo. Of course, there is a twist. The opposing teams get to assign the style and subject.
Fully aware of Kelly's weaknesses, Ryan assigned her former ally an American traditional tattoo featuring a ship, anchor and mermaids. Kelly fired back and hit Ryan with a "chunky" 90's new school tattoo that includes two dueling hot rods. Yup, the gloves are off.
Kelly, Ryan and Gian will face off during the live Ink Master finale on Tuesday, Dec. 6. The artists will not only have to complete a 24-hour chest piece, but tattoo a seven-hour piece on the day of the finale. Judges Dave Navarro, Chris Nunez and Oliver Peck will critique the two tattoos before announcing the season eight winner.