The future of reproductive rights may be hazy, but abortion advocates vow to fight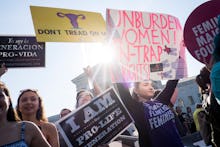 Just over half a year after the Supreme Court of the United States delivered a major win for abortion rights advocates by striking down Texas' extreme anti-abortion restrictions, we are now bracing for a Republican administration that threatens to tear down over 40 years of progress.
President-elect Donald Trump has suggested that he will put the question of reproductive rights in the hands of the states, and that those who subsequently find themselves without recourse will simply "have to go to another state."
For many in this country, that's simply not going to be an option. And already, despite the fact that abortion before viability (around 24 weeks gestation) remains legal under 1973's Roe v. Wade decision, conservative-leaning states are doing everything they can to curtail access without banning the procedure outright. 
And then, Trump has stacked his cabinet with abortion-unfriendly men: committed abortion foe Mike Pence as vice president; staunchly pro-life and anti-Obamacare Tom Price to head the Department of Health and Human Services; and racist, anti-abortion Jeff Sessions for attorney general, among others. On top of that, he's been clear about his intention to place anti-abortion Supreme Court justices on the bench. Suffice it to say, reproductive rights now stand on the thinnest ice they have in decades. 
That's why, in a Wednesday press call, Planned Parenthood, the ACLU and the Center for Reproductive Rights announced their intention to, as Planned Parenthood Chief Medical Officer Dr. Raegan McDonald-Mosle put it, "fight back state by state."
The first step? The joint filing of three separate lawsuits against Missouri, North Carolina and Alaska for putting unconstitutional obstacles in the way of people seeking abortions. 
"Today's filing is a major step in the fight to ensure all women can get safe and legal abortions in their own communities, when they need them," Nancy Northup, president and CEO of the Center for Reproductive Rights, said in a statement. "We are a nation of laws, and the Center is prepared to use the full force of the law to ensure women's fundamental rights are protected and respected."
In challenging laws in three states, the complaints refer back to June's Whole Woman's Health v. Hellerstedt decision, which deemed two points in Texas' House Bill 2 unconstitutional: obligating physicians at abortion clinics to secure difficult-to-obtain admitting privileges at a nearby hospital and requiring the clinics themselves to adhere to the same standards as ambulatory surgical centers, which are facilities that perform outpatient surgeries. In its majority opinion, SCOTUS declared both these requirements to be medically unnecessary and that they placed "undue burden" on women exercising their rights.
"Targeted Regulation of Abortion Providers laws like [this one] that 'do little or nothing for health, but rather strew impediments to abortion' cannot survive judicial inspection," Ruth Bader Ginsburg wrote in her concurring opinion.
Despite the landmark decision, Texas persists in its efforts to get the TRAP laws Ginsburg mentioned in her opinion on the books — and it's far from the only state to do so. In Alaska, North Carolina and Missouri, eerily similar restrictions remain in place. The groups' lawsuits hope to change that. 
Alaska
Alaska's current law requires abortion clinics to retain the staff and equipment appropriate to a "major" surgery, which abortion is not. For that reason, Alaska's requirement that facilities keep a blood supply at the ready is an arbitrary obstacle, Planned Parenthood of the Great Northwest and Hawaiian Islands v. State of Alaska alleges. 
Most notably, though, Alaska bans abortions being performed in outpatient centers after the first trimester, or 12 weeks into a pregnancy. To obtain a legal abortion in the second trimester, women would have to leave the state — a staggeringly tall order, considering. And certainly, a burden.
North Carolina
In Bryant et al. v. Wood et al., the plaintiffs are challenging a law that criminalizes abortion after the 20th week of pregnancy — before viability — obligating physicians to put off performing an abortion until it is immediately necessary, which is to say: until it risks killing or doing grave harm to the mother.
North Carolina also obligates doctors to send the state ultrasounds from patients seeking to terminate a pregnancy, and forces women to wait 72 hours between initial consultation and procedure. That means women must set aside time for two visits to a clinic — a hurdle, especially when one considers that the vast majority of North Carolina counties have no abortion clinic, leaving over half the state's women to set aside roughly one work week to trek to a provider.
Missouri
The Show Me state's abortion restrictions most closely resemble those that Whole Woman's Health deemed unconstitutional, and yet lawmakers haven't been affected or deterred by the decision. 
Currently, Missouri prohibits abortion after 21 weeks and 6 days, and requires clinics to attain the aforementioned ambulatory surgical facility standards. The physician performing the abortion must also have difficult-to-procure admitting privileges at a local hospital, allowing them to admit their patients there whenever, despite the fact that abortion doesn't require hospitalization. On top of all that, it imposes a 72-hour waiting period on women.
The result of all these restrictions is that Missouri has only one abortion clinic left: a Planned Parenthood located in the city of St. Louis. As the joint complaint, filed Wednesday, pointed out, this one center is left "to serve the nearly 1.2 million Missouri women of reproductive age."
But in reality, it's more than that: Missouri was the first state to introduce admitting privileges as a means of narrowing women's abortion rights, and has traditionally remained aggressively pro-life. Three months into 2016, the state legislature had already introduced more than 12 restrictions on abortion access, and lawmakers plan to introduce further regulations for the 2017 legislative session. This is the state in which one legislator, in attempting to ban abortion without exception, even in the case of rape, referred to birthing a child as being the "silver lining" to that particular crime.  
That it already has just one abortion clinic is not necessarily surprising, but it is frightening — both for women inside and outside Missouri.
According to Mary Kogut, president and CEO of Planned Parenthood of the St. Louis Region and Southwest Missouri, the St. Louis center serves women from 14 states, primarily Missouri and Illinois. Since it became the state's only abortion provider in 2011, the St. Louis Planned Parenthood has seen an upswing in the number of women traveling long distances within the state in order to get abortions, Kogut explained in an interview. Most women, she said, travel 100 total miles to reach the facility; nearly one-third endure an even longer journey. 
Missouri's three-day waiting period, she explained, makes abortion impractical and unaffordable for many women: They have to take off work for two separate appointments and the days in between, time off that's far from guaranteed to be paid or even allowed. They might have to secure child care, find money to pay for travel costs, food, housing etc.. 
"It has nothing to do with making abortion safer for women," Kogut said. "But it has everything to do with creating another barrier for women." 
"We periodically do have women who can get to us and they have no gas in their car to get back home," she continued. "So we need to provide a gas card for them or some kind of support so that they can travel three hours back to their hometown. In a society where health care should be a priority, this seems wrong. It seems like an undue burden for women."
Asked what the future of Planned Parenthood St. Louis might look like — what might happen to the women of Missouri who lose their biggest reproductive health care resource — Kogut said that while next steps were hazy, one thing was clear: "I just know we're not backing down." Kogut continued: 
It is so important that everyone, men women families, have access to this care. We're not just talking abortion, we're talking ensuring that there's access to quality birth control, well woman care, breast exams, pelvic exams — we're looking at the full range of reproductive health care, and making sure that regardless of income, race, gender, orientation or where people live, that they can access care.
Wednesday's lawsuits are a reflection of that sentiment, and far from the end of the road. All three organizations pledged to press forward regardless of whatever wrenches the Trump administration may throw in their plans.
"Make no mistake about it: This is just the next step," said Jennifer Dalven, director of the ACLU's Reproductive Freedom project, in a press call. "We will not stop until every woman can get the care that she needs, no matter where she lives or how much money she has. That's the type of fair and just world that Americans want, that families deserve and that the constitution requires."