You'll soon be able to buy and smoke a clone of Hunter S. Thompson's marijuana buds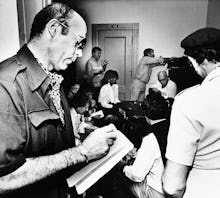 Whether you love weed now, or simply "burned incense" in college to deter snooping RAs, there's some big green news you should know about: You'll soon get to chill with notorious literary icon and drug enthusiast Hunter S. Thompson. 
Well, sort of. 
Thompson died in 2005 before famously having his ashes fired out of a 15-story cannon. But now, thanks to the latest in cloning technology, there's a chance to smoke the same buds that once nourished the writer's creativity. 
In an interview with the Aspen Times, Thompson's widow, Anita, said that she had recently acquired the rights to his likeness, along with his Gonzo logo. Her first order of business?
To clone and sell some of the marijuana and hash her deceased husband enjoyed while he was alive. 
"I was always steering toward his work and away from his lifestyle, but now I feel like I can talk more openly about his lifestyle," Anita Thompson told the Times. "I'm looking forward to being a drug lord."
She elaborated on the plans and the process in a Facebook post on Sunday.
"I have found a legal method to extract the DNA from Hunter's personal marijuana and hashish that I saved for 12 to 15 years," Anita wrote, accompanied by an image of the Gonzo logo. "I am in the process of making the strains available to those who would like to enjoy the authentic Gonzo strains in legal states."
One would think that after 15 years those buds would be pretty stale, but there's apparently enough juice left in them for the entrepreneurs of Colorado's nascent legal weed market to do their work. It's still unclear how long it will take for the replica of Thompson's stash to be available in stores. 
Thompson is widely considered the founding father of gonzo journalism — an immersive form of reporting which does not attempt objectivity — a specialty that will lend its name to the cloned cannabis brand.
"I have always loved marijuana," the writer once famously said. "It has been a source of joy and comfort to me for many years. And I still think of it as a basic staple of life, along with beer and ice and grapefruits — and millions of Americans agree with me."
Thompson is not the only personality whose name is being lent to the burgeoning marijuana industry; other famous potheads are increasingly being tapped to give brand recognition to upstart companies.
Back in 2014, for example, relatives of reggae star Bob Marley sold his naming rights to a holding company called Privateer Holdings, which is backed in part by the billionaire Facebook-backer Peter Thiel.