New Year's Eve Playlist: 14 songs to help you ring in 2017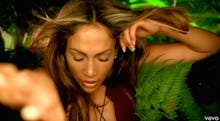 Having the perfect playlist for New Year's Eve is important. Whether you're throwing a party for you and your friends, or just hosting a party for one with some takeout and watching Garry Marshall's New Year's Eve, setting the tone with a playlist is key. 
As you eagerly await 2017, spend the last night of 2016 with songs that hit on those feelings of what a new year means to you. Of course, if you want to dance the night away, too, we've got you covered. Or if you're spending the night in with Netflix and binge-watching Black Mirror again, don't worry, we've made sure to include you as well. For the perfect New Year's Eve playlist, here are 14 songs you must play. 
Jennifer Lopez: "Waiting for Tonight"
Not sure if Jennifer Lopez will be waiting for much this year, as she'll likely be spending the evening with her rumored new boyfriend Drake. For the rest of us, we have her to thank for her New Year's Eve theme song, "Waiting For Tonight." The song and video give us the perfect New Year's Eve aesthetic, especially the green lasers. 
Ariana Grande: "Into You"
As one of the best pop songs of 2016, let's make sure we continue to appreciate how great Ariana Grande's "Into You" is as we head into 2017. 
Beyoncé: "Get Me Bodied (Extended Mix)"
Beyoncé's underrated smash "Get Me Bodied," from her album B'Day, is the perfect addition to your playlist for the evening — but make sure it is the extended mix. Queen B gives us instructions on how to celebrate the night with your best girlfriends and all the dance moves that are required. 
Rihanna: "We Found Love"
Finding love in a hopeless place is about being in a McDonald's after the clock hits midnight, right? Rihanna's timeless pop classic "We Found Love" is a must for any playlist. 
Alicia Keys: "In Common"
As one of 2016's most underrated pop songs, let's go into the new year making Alicia Keys' "In Common" the smash it deserved to be. The soulful dance floor anthem is the perfect song to get your party started. 
Janet Jackson: "Rock With U"
The video for Janet Jackson's "Rock With U" is the ultimate New Year's Eve song for grooving, dancing and having a good time with all your friends. Miss Jackson's underappreciated single will set the right mood for your evening. 
Kelly Clarkson: "Stronger (What Doesn't Kill You)"
If there were ever an anthem to properly send us into 2017, it is Kelly Clarkson's "Stronger (What Doesn't Kill You)." Clarkson's feel-good anthem is irresistible and empowering, reminding us to persevere through the bad times.
Mariah Carey: "Shake It Off"
Mariah Carey has some advice for you: Just shake it off. After 2016, this 2005 anthem will be our motto once again for the new year. 
Kanye West: "All Of The Lights"
We couldn't forget Kanye West's classic "All Of The Lights" from his album My Beautiful Dark Twisted Fantasy. For those who have ever attended a Kanye concert — or were hoping to this year — the song always manages to get an entire stadium going, which is the exact vibe you want for your overcrowded apartment. 
Britney Spears: "Piece of Me"
One of the bright spots this year was the glorious return of the legendary Miss Britney Spears. Her anthem for the haters from her 2007 album Blackout, "Piece of Me" is the perfect song to go into the new year with and ignite your fighting spirit.  
Backstreet Boys: "Everybody (Backstreet's Back)"
A little dose of '90s nostalgia never hurt anybody, so why not throw some Backstreet Boys into the mix? The 1997 smash-hit is still just as a fresh today as it was then, and if you're putting together a video playlist, including this music video is mandatory. 
Belinda Carlisle: "Heaven Is A Place On Earth"
We're still not over Netflix's Black Mirror, especially the episode "San Junipero." We haven't stopped listening to Belinda Carlisle's '80s classic "Heaven Is a Place on Earth" and it's the perfect addition to your New Year's Eve playlist or your New Year's Day playlist when you spend the day rewatching the series all over again. 
RuPaul: "Sissy That Walk"
No playlist is complete without at least one RuPaul song. Our go-to is "Sissy That Walk," which is as empowering as it is irresistible to death drop to. Sissy that walk right into next year. 
Michelle Branch: "Goodbye To You"
When Michelle Branch sings "Goodbye to you/ Goodbye to everything that I knew" on her 2000 classic "Goodbye To You," it is us waving goodbye to the year that was. The timeless break-up anthem still gets us going, and who doesn't love a good singalong at a party?