How to donate food to Standing Rock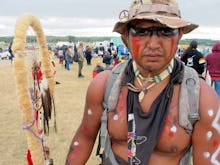 As the protest against the Dakota Access Pipeline continues into its third month, supporters of the Standing Rock Sioux tribe are turning to food as a way to help aid the efforts on the reservation. 
On Thanksgiving, Jane Fonda served dinner to about 500 DAPL protesters, Minneapolis-based chef Brian Yazzie has been catering meals on-site and South Dakotan Winona Kasto has been cooking soup everyday to feed 400 hungry mouths.  
As the New York Times explained in early November, "No one is directly in charge of the chaotic but robust network of what amounts to several free restaurants, which reflect both the broad spectrum of the nation's diet and its battles over food politics." Those congregating at Standing Rock rely on everything from roadkill deer to donated Funyuns and other dried and canned goods to provide on-site sustenance. 
While traveling to North Dakota may not currently be feasible for you, it's still possible to support the efforts in a delicious and nutritive way as the water protectors brace for winter. Non-perishables like dried seaweed, venison jerky, smoked salmon or pretty much anything that is canned or jarred are helpful to send to the site, and various groups have created lists of necessary supplies to help guide you in what to donate. 
Sacred Stone Camp
With cold weather approaching, Sacred Stone Camp is in need of firewood, as well as woodstoves, propane and fire extinguishers. Because of lack of solar and wind energy at the camps, burning wood and gas will be the primary source of warmth (for both bodies and cooking) in the winter months. Supplies as well as donations can be sent to Sacred Stone Camp P.O. Box 1011, Fort Yates, ND 58538 and 202 Main Street, Fort Yates, ND 58538. Sacred Stone Camp has also created an Amazon wish list to assist you in your purchasing of supplies. A small cast iron logwood stove starts at about $317 (plus shipping), which is less than that new iPhone you've been fantasizing about. 
Oceti Sakowin Camp
Bracing for winter, the Oceti Sakowin Camp has a similar need for propane, heating stoves and cold weather attire, as well as bulk food supplies to be stockpiled for winter, as their current stock of bulk food is dwindling or expiring. Pick up a few extra cartons of rice or preserved meats on your next Costco trip and ship them to Oceti Sakowin Camp, P.O. Box 298, Cannon Ball, ND 58528 or donate funds directly at www.paypal.me/ocetisakowincamp.
Standing Rock Needs You
This advocacy group has created a wish list of supplies, on which hundreds of packages of buffalo jerky are requested along with survival supplies and several camp stoves.
Red Warrior Camp
The Red Warrior Camp is fundraising $100,000 through a GoFundMe page that will be used for supplies on the ground for individuals protecting the sacred Mni Sose River in sovereign Lakota Territory.
Individual efforts
Individuals and businesses across the country are organizing fundraisers and food drives to donate supplies to Standing Rock. Washington resident Ben Sittingbull has set up a donation page to fill a trailer with thousands of pounds of donated organic food. Students and activists near Madison, Wisconsin, activists from Santa Cruz, California, San Francisco, Los Angeles and beyond, as well as Texas-based hot dog restaurant Frank and plenty more concerned people and businesses across the country have volunteered their time and services to collect food and deliver it or ship it to Standing Rock. All it takes is some time and organization to involve your community in a fundraiser and drive to collect supplies and express solidarity with Standing Rock en masse. 
And, of course, you can donate funds directly to the Standing Rock Sioux tribe, which will be allocated appropriately to support the on-the-ground efforts.