'Masters of Sex' Canceled: Did the season 4 finale end with a cliffhanger?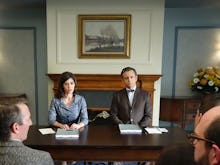 Showtime's Masters of Sex was canceled Wednesday after four seasons. The news comes just a few weeks after the critically acclaimed series aired its season four finale on Nov. 13. 
(Editor's note: Spoilers from the Masters of Sex season four finale ahead.)
Luckily the show did not end on a cliffhanger. Masters of Sex concluded its fourth and now final season with a season finale that, fittingly, doubled as a series finale. 
In "The Eyes of God," the series ties up several loose ends. Bill and Gini start to share the news with their friends that they are getting married. 
While one couple is about to get hitched, several marriages end throughout the episode. Gini's parents announce their marriage is over, and Art and Nancy end their relationship after Art exposes his wife's plans to open her own clinic. 
Bill informs his ex-love Dody that he and Gini are getting married. She wishes him the best and asks if she can meet her one day, after just admitting her marriage is also coming to an end. 
In true Bill form, he keeps Gini waiting at the altar — but shows up after nearly an hour later. The two have a civil ceremony and finally get married. Masters of Sex season four ends with the newly married couple posing for pictures outside of the courthouse.