'Overwatch' update 1.5.0.2 patch notes: Bug fixes for Sombra, Reinhardt, Ana and more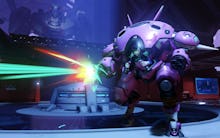 The live PC version of Overwatch got a new patch update, version 1.5.0.2, on Wednesday afternoon. Those of you hoping it brought Symmetra's reworked abilities or the new Oasis control map will be left disappointed — but it did usher in some important new bug fixes. The patch should hit PS4 and Xbox One versions of Overwatch soon.
Overwatch update 1.5.0.2 patch notes
Here are the full patch notes from Blizzard's forums:
Arcade
— Fixed a bug that prevented Ana from being selectable in the 1v1 Mystery Duel mode.
Heroes
— Fixed a bug that gave Mercy ultimate charge while damage-boosting her allies when they weren't actively damaging enemies.
— Fixed a bug that prevented Reinhardt from deactivating his shield after being hacked by Sombra.
— Fixed a bug preventing Sombra from hacking Soldier: 76's sprint ability.
— Sombra will no longer receive credit toward her "on fire" meter when her EMP ultimate hits Symmetra's turrets.
— When multiple Sombras attempt to hack a health pack simultaneously, the player that started hacking first will control it.
— Fixed a bug preventing Sombra from seeing training bots through walls with her "Opportunistic" ability.
— Fixed a bug preventing Sombra's targeting reticle from "consistently expanding" while firing her primary weapon.
More Overwatch news, updates, tips and tricks from Mic:
If you're ready for more Overwatch, you'll want to check out Mic's latest Overwatch news, like Terry Crews' desire to voice the rumored new hero Doomfist, Mic's guide to playing Sombra, what new characters might be on the horizon, which characters players speculate will be revealed as LGBTQ and information on the months-long alternate reality game that led up to the reveal of Sombra.