'Hamilton Mixtape' celebrates with new #Ham4Ham: Here's how to watch the livestream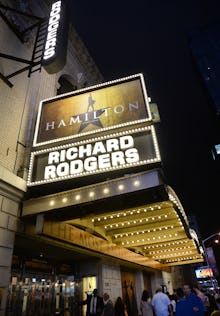 Hamilton Mixtape, an album of songs from the hit Broadway musical Hamilton performed by various artists, will celebrate its release with a special #Ham4Ham performance outside Richard Rodgers Theatre on Thursday. The performance will be livestreamed on YouTube at 12:50 p.m. Eastern for fans who cannot make it to West 46th Street in New York. 
#Ham4Ham, a series of live performances outside the theater during the show's lottery for $10 tickets, began when the Tony-winning musical was in previews in 2015. Performances included cast members and guest stars, including actress Audra McDonald, comedian Jimmy Fallon and Olympic gold medalist Maya DiRado. Hosted by the musical's writer Lin-Manuel Miranda, the performances drew enormous crowds, and the cast performed at the White House after being invited by President Barack Obama and first lady Michelle Obama. 
After going digital in January, the live shows resumed in April, with cast member Rory O'Malley hosting following Miranda's departure from the cast. 
The #Ham4Ham will feature artists on the Hamilton Mixtape, although the performers have not been specified.
Miranda, who wrote and starred in Hamilton, had originally conceived the show as a mixtape of songs before it evolved into a three-hour Broadway musical. Collaborators on the mixtape include John Legend, Usher, Kelly Clarkson, Sia, Wiz Khalifa, Ashanti and Alicia Keys, among others. 
Hamilton Mixtape will be released Friday, Dec. 2.