Girl told to dress "like an Indian" for school assignment made a statement on #NODAPL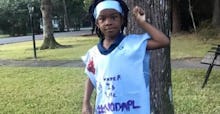 Usually, parents encourage their children to follow through on a school assignment. But this was no ordinary assignment. 
Earlier in November, Louisiana resident Tremeka Greenhouse saw that her 5-year-old daughter, Nyemah, had been told to attend school dress like an "Indian," — meaning Native American — for school. Nyemah's older sister first shared news of the assignment on her Twitter account on Nov. 9. 
"I was kinda shocked," Greenhouse said by phone. "I was like, 'We're not doing this project,' but Nyemah, she didn't want to get into any trouble." 
Greenhouse and her daughter agreed that Nyemah should attend school as a protester against the Dakota Access Pipeline,  a crude-oil pipeline stretching form North Dakota through southern Illinois. Since August, authorities have arrested over 500 protesters hoping to shut down the project, which runs through Native American land and has potential environmental repercussions, including potentially tainting locals' water supply. 
"I told her what's going in with their water," Greenhouse said. 
When Nyemah wore the outfit to school, her older sister shared photo of Nyemah on Twitter. The tweet featuring Nyemah has been retweeted over 1,000 times.
Although she may not know all the nuances of the situation, Greenhouse says her daughter does have an understanding of the DAPL protests. 
Greenhouse collaborated with her daughter on the final design. 
"If you notice on the picture, that's her handprint," she said. "I'm not a crafty mom, so it won't be the neatest of things, but we tried." 
More important than the quality of the garment was the lesson that Greenhouse tried to pass on to her daughter. Greenhouse said she speaks to her children at an age-appropriate level about issues like DAPL and police brutality to educate them about what's going on in the world. 
"Once I'm done with [my kids], the world will have to deal with them so that's my goal," Greenhouse said. "That's what my goal is as their mother and their dad is the same. We want them to be great."
Greenhouse said she didn't get feedback from her daughter's school about the outfit and that Nyemah did not get in trouble. The situation ended up being a win-win: Nyemah completed her assignment and she got to participate in activism. 
"I don't want [my kids] living in a bubble and then they get into the real world and it's a shock," Greenhouse said. "I'm hoping that I'm raising productive little people for the world."