The best jobs for the future? 12 industries where hiring is growing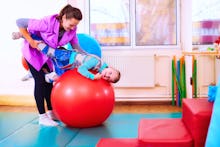 Do you have job skills — or do you have job skills in a thriving sector? You might be amazing at DJ-ing, for example, but openings in that industry are taking a nosedive over the next decade.
Sure, making big bucks from your job is nice. And so is a chill vibe — and happy workers. But the best insurance that you'll have a great, lasting career is is finding a space that's expected to grow in the future. 
Mic examined data from the Bureau of Labor Statistics to find which jobs have the biggest projected growth tracks between 2014 and 2024, with employment numbers that are expected to expand by between 30% to more than 100% by 2024.
Good news? More than half of these are positions that earn more than $75,000 in median income a year. And only two of the 12 earn less than the annual median income of $36,200. 
Some of these jobs — but by no means all — require advanced education beyond college, making them ideal second- or third- career jobs with relatively low bars to entry.
One of the most striking things about this list is the number of jobs in helping professions and health care — physical therapists, occupational therapist aides, physician assistants, home health aides and nurse practitioners. There is a growing need for these roles as baby boomers age and live longer, and as medical technology enables those who have experienced trauma or birth defects to survive with supportive care.
These are also jobs that won't be readily replaced by automation.
12. Personal financial advisors
Projected growth (2014 to 2024): 30%
Number of people with this job in the U.S. in 2014: 249,400
Median annual pay: $89,160
Personal financial advisors are coaches who help people manage their money stress. They work with individuals and families to help them make the strongest decisions possible on the costs and investments in their lives, from insurance to retirement and saving for college to saving for a house.
Work opportunities for personal financial advisors will expand because the population is expanding and people are living longer. 
Other financial positions, such as financial manager, which handles money decisions for large organizations, can only expand as businesses and the economy expands — and has a much lower expected growth rate of 7%.
Personal financial advisors far exceed that because there are so many potential clients.
11. Physician assistant
Projected growth (2014 to 2024): 30%
Number of people with this job in the U.S. in 2014: 94,400
Median annual pay: $98,180
Physician assistants, often called PAs, help deliver medical treatment as part of a team of doctors and nurses.
PAs attend a post-graduate PA program and a license is required, but the lengthy training for doctors of medical school followed by a residency is not required. 
Also distinguishing PAs from physicians: they don't do surgery and must work under the supervision of a doctor.
Beyond those key differences, much of the PAs work is the same as a physician, including examining and diagnosing patients, developing treatment plans and tending to wounds.
PAs have become a critical part of care in an overburdened health care system, with 90% of hospitals employing PAs and 95% of hospitals planning to maintain or increase hiring of PAs in the next year, according to a study from the American Academy of Physician Assistants.
10. Operations research analysts 
Projected growth (2014 to 2024): 30%
Number of people with this job in the U.S. in 2014: 91,300
Median annual pay: $78,630
Operations research analysts help organizations and businesses make decisions by using mathematical and analytical tools.
Their findings may point to how to use resources, when to roll things out, how to manage the supply chain or where to set prices. At the root, operations research analysts are problem solvers.
This field remains in high demand as technology increases the amount of data we can glean and companies and organizations continue to seek to improve efficiency and lower costs.
9. Occupational therapy aides
Projected growth (2014 to 2024): 31%
Number of people with this job in the U.S. in 2014: 8,800
Median annual pay: $54,520
Occupational therapy, which helps children and adults develop and recover the skills needed for independent daily living and working, is a growing field.
Because of that, both occupational therapy aides and assistants show up on this list. Occupational aides focus on the set-up, preparation and administration of the space for therapy.
They may set out skills tools, transport patients or even do administrative work like helping patients with health care forms or insurance.
This field is growing due to the aging population, who will be more prone to conditions like arthritis and strokes that may require occupational therapy.
While the number of aides are expected to increase by 31% in the next decade, aides are the smallest in number of the occupational therapy team and so only 2,700 new jobs are expected. 
8. Physical therapist
Projected growth (2014 to 2024): 34%
Number of people with this job in the U.S. in 2014: 210,900
Median annual pay: $84,020
Sometimes called PTs, physical therapists work with people who are injured or ill to regain their physical strength and manage their pain.
They may work specifically with older people or with people with sports injuries. 
Physical therapy makes a major splash on this list — with therapists, assistants and aides all expecting to see big growth.
The expansion of the field is largely because of the need for physical therapy by baby boomers, but also because advances in medical technology have made it possible for trauma victims and children with birth complications to survive.
With a 34% increase in a large profession, physical therapists will see an increase of 71,800 jobs in the next 8 years.
7. Statistician
Projected growth (2014 to 2024): 34%
Number of people with this job in the U.S. in 2014: 30,000
Median annual pay: $80,110
Statisticians help to solve problems and address challenges in fields as diverse as business, engineering and health care.
By collecting and looking at data methodically, they help decision-makers make moves. 
There is an increasing demand for these jobs — expected to grow by 34% — because of a growing reliance on evidence-based data.
Also, the amount of data from ever more sources such as social media and mobile devices means there are more numbers to crunch. Statisticians help make sense of it.
A particular kind of statistician, a biostatistician, will be in demand by the pharmaceutical industry as an aging but longer-living population will increasingly rely on drugs. Drugmakers will need biostatisticians to look at the numbers from drug trials.
6. Nurse practitioners
Projected growth (2014 to 2024): 35%
Number of people with this job in the U.S. in 2014: 126,900
Median annual pay: $98,190
Nurse practitioners are primary health care providers, usually specializing in a particular group like the elderly, kids or those needing mental health services.
Like nurse anesthetists and nurse midwives, nurse practitioners are referred to as advanced practice registered nurses (APRNs). 
This cohort of nurses, which receive more training and are more specialized than registered nurses, are a big part of expanding health care services.
Nurse practitioners are expected to have the largest job growth of them, growing by 35% between 2014 and 2024 (the other kinds of APRNs also have above-average growth but not in the top 12). Even within the field of nurse practitioners there are subspecialties. 
5. Home health aides
Projected growth (2014 to 2024): 38%
Number of people with this job in the U.S. in 2014: 913,500
Median annual pay: $21,920
Because patients are being discharged earlier and are more sick than before, there is an increasing need for care in the home.
Home health aides assist people with illness, injury, disabilities or mental impairment with daily living in their own home. 
Working in someone's home makes for some horror stories about being a home health aide, but there are efforts to improve conditions through unionization and regulations in this entry-level health care field.
This job requires the least education of any on this list — a high school diploma is sometimes required, but not always — and is also one of the lower-paying jobs on this list. But the jobs are plentiful and it may help you transition into other caring professions like nursing. 
4. Physical therapist aide
Projected growth (2014 to 2024): 39%
Number of people with this job in the U.S. in 2014: 50,000
Median annual pay: $25,120
Physical therapy appears prominently on this list of big-growth jobs.
It is largely due to the needs of the aging population and technology that enables more people to survive trauma and birth conditions in a physical situation that requires therapy. Physical therapist aides are part of the therapy team that help patients who have been sick or sustained injuries regain movement again. 
Aides are usually responsible for preparing and cleaning the therapy space, helping patients move from one area to another or even do clerical work like answering phones or scheduling patients.
Usually aides are required to have a high school degree or equivalent. The number of aide jobs are expected to increase by 39% between 2014 and 2024, as the demand for physical therapy increases.
3. Physical therapist assistant
Projected growth (2014 to 2024): 41%
Number of people with this job in the U.S. in 2014: 78,700
Median annual pay: $42,980
Physical therapist assistants help the physical therapist provide treatment to people who have been injured or sick and are working to regain their strength.
The assistant works under the supervision of the therapist and may observe patients as they are completing therapy, make status reports, help people with particular exercises or treat them with massage or stretching. 
Assistants are required to have at least a two-year associate's degree training in the field.
As part of the physical therapy team, their pay is commensurate with their education — more than aides but less than therapists. The position is projected to see a 41% increase in jobs between 2014 and 2024, slightly more than therapists or aides.
2. Occupational therapy assistants
Projected growth (2014 to 2024): 43%
Number of people with this job in the U.S. in 2014: 33,000
Median annual pay: $57,870
Occupational therapy assistants work under the supervision of occupational therapists to provide people who have been sick or injured to build, reclaim and boost the skills needed for daily living.
As part of the occupational therapy team, the assistant helps patients in their skills-based activities, may lead children with developmental delays in activities or cheer patients on as they work to complete activities. 
There is also some record-keeping and status updates to maintain. This job is expected to expand by 43% between 2014 and 2024.
In addition to expanding as part of the health care needs for an aging population, assistant positions are likely to grow as health care providers save money by employing more assistants to implement care plans under fewer occupational therapists. 
1. Wind turbine technician
Projected growth (2014 to 2024): 108%
Number of people with this job in the U.S. in 2014: 4,400
Median annual pay: $51,050
The number one occupation with the most expected growth is wind turbine technician, a renewable energy job with numbers that are projected to double between 2014 and 2024.
As the shift to alternative energy sources expands, the need for workers to install, maintain and fix wind turbines will grow at a projected rate of 108%.
It is a small field but is expected to grow by another 4,800 jobs before 2024.
Wind turbine service technicians provide a benefit for particular areas of the country: There is a concentration of wind farms is in the Great Plains and along the coasts.
President-elect Donald Trump's decisions on the appointed heads at the Department of Energy and the Environmental Protection Agency may have a big impact on the future growth of this field.