Colorado doctor calls Michelle Obama "monkey face" on Facebook, insists it's not racist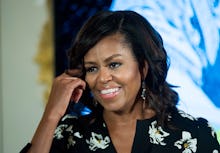 A Denver doctor has been suspended from seeing patients indefinitely after she called first lady Michelle Obama "monkey face" on Facebook — then insisted her comments were not racist.
According to the local ABC affiliate KMGH, Dr. Michelle Herren, who is an anesthesiologist at Denver Health Medical Center and an assistant professor at Colorado University School of Medicine, posted a photo of Obama on Facebook with the caption "doesn't seem to be speaking too eloquently here, thank god we can't hear her! Harvard??? That's a place for "entitled" folks said all the liberals!" 
Herren then wrote she was just "calling it like it is":
"Monkey face and poor ebonic English!!! There! I feel better and am still not racist!!! Just calling it like it is!"
Joann Nieto, stunned by Herren's comments, sent an email to the Colorado University Board of Regents. "Hiding behind the excuse that you're not racist doesn't negate the fact that you are being racist," Nieto told KMGH.
While Herren has since deleted the comment — and taken down her entire Facebook page — she is insisting her comments weren't racist at all. She told the news channel in a phone interview that her comments were taken out of context and that she didn't realize the term monkey face was racist. 
According to the Denver Post, which noted Herren takes home a salary of $363,000 a year, the pediatric doctor will not be seeing patients at Denver Health Medical Center. It is unclear if Herren is being formally suspended.
In a statement to the paper, Denver Health said, "Until further notice, Michelle Herren, MD, will not be seeing patients or providing anesthesia services at Denver Health."
In a previous statement to the Post, Denver Health said they couldn't fire Herren for her "off-duty" comments: 
While the leadership of Denver Health is appalled by these remarks, as a public entity we are constrained by both state and federal law, including the First Amendment right of free speech, to terminate any employee for their off-duty comments, regardless of how offensive their comments may be.
Nieto thinks Herren should lose her job, however. "I think you have to hold yourself to a higher standard as being a public employee, as well as being a professor in such a critical field," Nieto told the KMGH.
In recent weeks, Obama has been the target of a series of racial Facebook attacks. Beverly Whaling resigned as mayor of Clay, West Virginia, after she responded favorably to a Facebook friend calling the first lady an "ape in heels."