Even Kanye West appears to have his breaking point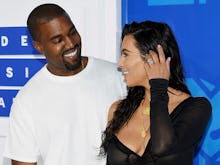 Kanye West was hospitalized at the UCLA Medical Center on Nov. 22. Over a week later, on Wednesday Nov. 30, the 39-year-old rapper reportedly checked out. 
November was a challenging month for West.
He canceled his Saint Pablo tour after three months of performing, praised Trump and went on a rant at his show about Hillary Clinton, Beyoncé and Jay Z,  and was — according to a source who spoke to NBC — "concerned about his own health and safety." 
But this only scratches the surface. In October, West's wife, Kim Kardashian, was robbed at gun point. Kardashian deleted her social media accounts and took a hiatus from appearing in public. The incident likely affected West.
TMZ also reports sources claim that West — who may have suffered from a nervous breakdown — is also extremely affected by the anniversary of the death of his mother, Donda West. Although it's been nine years since her death, which occurred on Nov. 10, 2007, she and West were very close. It makes sense that his rants and tour cancellation would come a few weeks after the anniversary of her passing. Also, in a 2015 interview with Q magazine, West expressed guilt over the circumstances surrounding her death. 
"If I had never moved to L.A. she'd be alive," he said. "I don't want to go far into it because it will bring me to tears."
TMZ also reports that West will still be under the close care of not only his wife but his personal physician, Dr. Michael Farzam. Since first checking into UCLA, several Hollywood figures have reached out to show their support and compassion.