On Irina Shayk and how the Victoria's Secret Fashion Show remains afraid of baby bumps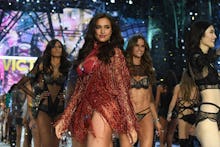 On Wednesday night, Irina Shayk took to the 2016 Victoria's Secret Fashion Show runway to make a big announcement: She is pregnant.
Throughout the show, the mother-to-be danced down the runway in a fringed red sparkly robe that revealed her backside, and matching lingerie. 
She also appeared in a beige satin raincoat tied closed at the waist with a lacy set of grey lingerie underneath.  
Her peers at the show, meanwhile, wore things like this: 
Rather than having Shayk slip into only lingerie, wings and maybe a silk robe, just like the other models, Victoria's Secret decided to attempt to cover up her baby belly. Indeed, for a while now, baby bumps have had a place on the Victoria's Secret runway, but only so long as they remain covered up.
In 2011, two pregnant women with visible baby bumps walked the runway as well and were treated much like Shayk. 
There was Alessandra Ambrosio: 
And there was Lily Aldridge: 
Much like with Shayk now, the 2011 show made a concerted effort to hide their bellies, with a corset, or jewels or even a highly unflattering dress, which wasn't the case for many of the other models who walked that night. 
So what gives? 
It seems that, even though the fashion show has been deemed a celebration of women and beauty, the baby bump is still forbidden. That's particularly ironic because Victoria's Secret loves to pat itself on the back for letting models who have just had children walk the runway, like Adriana Lima at the 2012 show, who had just given birth eight weeks prior, and Heidi Klum in 2009, who walked in the Victoria's Secret show just five weeks after giving birth.
While these displays can inspire confidence in women who are anxious about losing their post-baby weight, they can also unintentionally inspire anxiety and an overall stigma against women who, you know, really don't care about being rail thin less than two months after giving birth. 
It's ironic that the Victoria's Secret Fashion Show is so quick to celebrate mothers after they start to slim down, but never celebrate them while they are actually carrying a child. 
This continued trend also hints that Victoria's Secret is uncomfortable with women who are still very, very thin, but happen to have a bulge in her tummy for completely natural reasons. So good luck convincing the company to hire a plus-size model, which it still has not done. 
There is also the chance here that the women who are pregnant are uncomfortable with their bump being shown, and that would be entirely understandable. Still though, the Victoria's Secret Fashion Show, which will air on Monday night and is sure to bring in millions of viewers, feels like an easy platform to make a statement like, "Pregnant women are beautiful," or "Baby bumps are beautiful," or even, "Your baby bump is sexy and you should love it." 
Instead, the message it'll be sending is, "We do not want to see your baby bump." And that's a shame.