What the fight against AIDS looks like around the world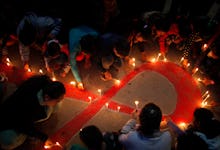 In June, President Barack Obama made a speech on the anniversary of the first AIDS diagnosis in the United States, which made news 35 years ago. While at the time, the HIV/AIDS crisis was exactly that — a crisis — over the past three decades, the country has made strides in prevention and education (though African-Americans, and especially gay black men, are still being diagnosed with the virus at alarming rates), in addition to having improved the quality of life for many of the 1.2 million Americans who live with what remains an incurable disease. 
"We've seen that testing, treatment, education and acceptance can not only save and extend lives, but fight the discrimination that halted progress for too long," Obama said at the time. He pledged his commitment to ending the HIV/AIDS epidemic by 2030.
The fight against the spread of HIV in the United States, though, is just the tip of the iceberg. As of the end of 2015, a staggering 36.7 million people worldwide live with the virus, many in places with fewer resources and where people have less access to health care. In those countries, the fight against HIV/AIDS can look a little different. 
India
According to Avert.org, India has one of the world's largest HIV epidemics, with about 2.1 million people living with the virus. Health officials in India have focused many of their prevention efforts on the 868,000 people reportedly identified by National AIDS Control Organization as female sex workers, 2.8% of whom have HIV.
One of India's biggest initiatives has been the Sonagachi Project, which launched in 1992 with the aim of preventing the spread of HIV among people who trade sex. 
The project has proven to be successful because sex workers have used the initiative to spearhead some of the "most successful HIV prevention programs," according to a 2012 piece from the Guardian. 
Such initiatives are also bringing more visibility to Indian populations that have been historically marginalized. 
"We're looking at large numbers of women ... demanding political space and a voice — this is huge," Prasada Rao, India's special envoy to the secretary-general of the United Nations on HIV/AIDS, told the outlet. 
South Africa
In Eshowe, South Africa, two women working with Doctors Without Borders are leading the charge on the ground to keep their community informed and safe. Babongile Luhlongwane and Busisiwe Luthuli spend four days of their week traveling their town on foot, testing residents for HIV. Across the country, about 7 million people are living with the virus.
Luthuli and Luhlongwane give their patients a short informational session on what HIV is, how it spreads and how to prevent it before administering the test. 
"I like to help people," Luthuli told Mic in July. "Sometimes people, they [don't know their] status, and they don't understand HIV." 
In December 2015, South Africa became the second country to provide "widespread" access to PrEP, a daily pill people can take to dramatically reduce their chances of contracting HIV, according to the South African health journalism initiative Bhekisisa. 
Just a year later, South Africa is starting to test an experimental vaccine to combat the virus. According to Al-Jazeera, the study will test the vaccine on 5,400 men and women in South Africa over the course of four years.
"If deployed alongside our current armory of proven HIV prevention tools, a safe and effective vaccine could be the final nail in the coffin for HIV," Anthony Fauci, director of the U.S. National institute for Allergies and Infectious Diseases, told the outlet.
Kenya
Kenya, along with Uganda and Mozambique, has the fourth-most severe HIV/AIDS epidemic in the world, with 1.5 million people living with the disease, according to Avert.org. While most countries can identify key at-risk populations, Kenya has a "generalized" epidemic, meaning that HIV is widespread among young people, adults and children of all genders. 
Still, it continues to be the case that women are disproportionately affected by HIV, with 6.9% of all women in Kenya living with HIV in 2012, compared to 4.2% of men. 
According to Avert.org, Kenyan young women are also less likely to know their HIV status due to stigma, with a study showing a quarter of women in Burkina Faso, Kenya, Malawi and Uganda reporting they're made to feel shame because of their status.