What to know about newly appointed UN Ambassador Nikki Haley's position on climate change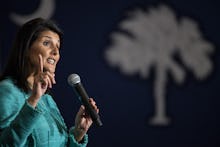 President-elect Donald Trump has appointed plenty of white men to his Cabinet. But he broke from the trend when he chose Republican South Carolina Governor Nikki Haley, a woman of Indian descent, to be the next United States ambassador to the United Nations, replacing Samantha Power. 
With a Republican majority in the Senate, it's safe to assume this nomination will be approved. 
In Haley's capacity as ambassador to the U.N., she will be working with an organization committed to combating climate change. But what are Haley's personal views on climate change?
Haley's views on climate change
In 2013, Haley became embroiled in controversy when a report on climate change's devastating effect on South Carolina was found to have been buried. 
Haley has never publicly stated her position on climate change or whether she believes it's a real problem. However, she has supported Atlantic offshore drilling for oil and gas and lambasted the Environmental Protection Agency for trying to limit carbon emissions of power plants. 
"This is exactly what we don't need," Haley told an electric cooperative in 2014 after the EPA's proposed plans, according to the Post and Courier. "This is exactly what hurts us. You can't mandate utility companies which, in turn, raises the cost of power. That's what's going to keep jobs away. That's what's going to keep companies away." 
She added that the federal government should "stay out of the way."
Incidentally, as governor, she accepted hundreds of thousands of dollars in contributions from the oil and gas and electric utility industries.
Trump has already indicated he might withdraw from the historic Paris climate agreement between 180 countries to curb a rise in global temperatures, despite 71% of Americans supporting it. 
If Haley's track record is anything to go by, it's possible she would champion the president-elect's decision to undo progress in this arena — and that could come at a great human and financial cost for the world.