Khloé Kardashian makes her opinion on being labeled plus-size crystal clear: "F*ck that."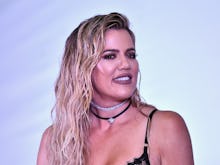 Khloé Kardashian is many things. She's a social media maven and a reality TV star, an entrepreneur, a fitness blogger and guru, and, most recently, a fashion designer with a size-inclusive denim line.
But what the 32-year-old mogul wants you to know is that she does not like, nor has she ever has liked, to be labeled plus size. 
During a panel at Fortune's Most Powerful Women Next Gen conference on Tuesday, Kardashian said that the idea for her denim line, Good American, was all about something that empowers women, and her passion stems from being labeled plus size herself by the press. 
"I used to be someone that they would label as plus size," Kardashian said. "And I'm like, fuck that. I don't want to be called that. I'm a woman with curves."
Kardashian's argument against being labeled plus sized is similar to that of Amy Schumer's, who famously blasted Glamour magazine for including her in a special plus-size issue. 
"I think there's nothing wrong with being plus-size," Schumer wrote on Instagram and Twitter back in April. "Beautiful healthy women. Plus-size is considered size 16 in America. I go between a size 6 and an 8. @glamourmag put me in their plus-size only issue without asking or letting me know and it doesn't feel right to me."
Kardashian, with a similar sentiment, claims she never thought of herself as plus size, technically meaning a size 12 or above, so why should she be labeled that? 
"I would say I was average size at the time and I was very proud of who I was," Kardashian said. "I felt so shamed at the time to go into boutiques or go denim shopping. It was something that was super hard for me."
Kardashian's offense to the word shines a light on the stigma that still hangs on the plus size label and having to shop in the plus size section. Of course, this comment may get Kardashian in some trouble on account of perpetuating the stigma or shame around being plus size, or merely being labeled as such. 
After all, many plus-size models aren't size 12 or above themselves, due to the standards that plus-size models are still held up to, like having a flat stomach or an hourglass figure. 
Model Ashley Graham, who's a size 14/16, told Glamour about Schumer's offense to the word back in July: "I can see both sides. But Amy talks about being a big girl in the industry. You thrive on being a big girl, but when you're grouped in with us, you're not happy about it? That, to me, felt like a double standard." 
During the interview, Kardashian also touched on how she doesn't think sizes should be segregated, and how she felt when she would go shopping with her sisters and the stores wouldn't have her size. 
"When I used to go shopping with my sisters, we would go to boutiques and we liked the high-end denim and I remember if I needed like a 31, they would say, 'Oh, a 31? Let me check in the back,'" Kardashian said. "And they would come out like, 'We don't have that size here.'" 
It's that experience, which Kardashian hopefully knows by now is widely familiar to anyone who is a size 12 or above, that helped laid down the foundation for much of her denim line's recent success.