Fly through every corner of the international space station in this mindblowing video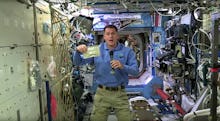 If you've ever wanted to travel to space but you have, you know, Earthling things to do, you're in luck. NASA aims to curb any galactic FOMO you have in their Ultra HD Space Station tour.
The video, with a running time of just over 18 minutes, takes viewers on a fisheye tour of inside the International Space Station. 
The tour begins with a view of Earth from the cupola, located in the central part of the station.
The video then soars through the ship's modules, cargo storage and work stations. Viewers are shown the kibo airlock, where astronauts are able to bring experiments in and out of the station.
The camera pans through multiple tunnels and passageways to get from one part of the station to another. An illustration of the space station appears over the video, with locations highlighted so those watching can understand where exactly they (virtually) are.
A Russian cargo spaceship is set to deliver food and supplies to the Space Station crew on Thursday.  You can watch it all happen live on the International Space Station's 24 hour livestream.