This revenge porn texting scam is spreading. Here's what to do if it happens to you.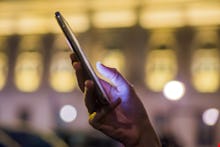 In November, a hacker used my name and Facebook profile photo to send my coworker a NSFW video that appeared to come from "me." 
Radware security researcher Daniel Smith took a look at the messages and said that it appeared to be "a social engineering attempt from a phishing site."
Smith believes that it is a phishing/smishing attack — a scam to try and get sensitive information from you, such as your credit card number, by posing as a "legitimate" party, or an attempt to trick you into downloading malware onto your mobile device.
"What sensitive information the attacker was after is still unknown," Smith said in an email.
When I asked Smith how the attacker might know I'm connected to my coworker, he said that "targeting a coworker is not that difficult." Aside from using Open Source Intelligence tools, Facebook has all of the information needed for a scammer to try and pose as "me" — they can search a profile for a user's employers, photos liked, photos commented on, stories commented on and groups I'm in.
According to emails sent to Mic from other individuals who received the same texting scam, the link takes you to a porn site with a video of a naked woman whose face isn't visible, seeming to imply it's a naked video of the alleged sender. 
What to do if this happens to you
If you received a text like the one mentioned above, or any suspicious messages, verify with the sender that it was in fact them who sent it to you. Also, per Smith's suggestions, do not open the text or ever click on links. You can report the attack and you should delete the text.
There are also a number of tools you can use to inspect the content. Smith points to a URL checker, a redirection checker and a URL unshortener.
It appears the SMS attack is still going around — as of Thursday morning, three individuals notified me that they received the same suspicious text from someone they knew. A number of other people emailed me throughout the week that they received it as well — some from coworkers, others from significant others, friends, in-laws, children and even exes.