Mashable declared #OscarsSoWhite over. Twitter disagreed.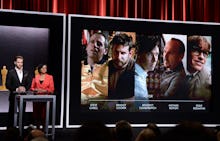 December 1, 11:15 p.m.: This story has been updated to reflect Mashable's decision to "part ways" with the writer of the story, Jeff Sneider.
Original story:
Pro tip: Unless the founder of a movement declares it's over, it's probably not over.
That's the mistake Mashable writer Jeff Sneider fell into with his piece on the upcoming Oscar race. In the initial version of the story, and the now-deleted tweet promoting it, #OscarsSoWhite was declared "canceled," thanks to the more diverse slate of acting nominees likely to be voted in after two straight years of all-white crops.
Suffice it to say, Twitter was not thrilled with the premature cancellation. The primary issue was that Sneider, a white man, had taken a movement started by a black woman (April Reign, @reignofapril on Twitter) and decided it was over.
Mashable entertainment editor Josh Dickey expressed regret, appending a correction to the article and tweeting his own claim to responsibility. In an email Thursday night, Mashable's director of communications Paul Cafiero said that the site "has decided to part ways with" Sneider as a direct result of the day's events.
Writer and activist Franchesca Ramsey, as well as other users, noted the key hypocrisy here: Sneider was dismissing people of color's opinion, while simultaneously writing about the state of diversity in the Oscar nominations. He was merely performing of allyship, rather than acting it.
Additionally, to minimize #OscarsSoWhite to just being about the acting races is short-sighted. There are many professions in the film world that still remain woefully un-diverse, many of them below-the-line (and thus outside of mainstream media's sight).
Reign herself, for her part, challenged Mashable to do better even after their correction.
Mashable and entertainment writers will have to process this misstep as they move forward this season — including who they should be talking to in writing their stories and what language they use in the crafting and promotion of those pieces. In the meantime, Reign has gotten another hashtag started on Twitter: #MashableCancels.