6 Easter eggs you may have missed in 'Gilmore Girls: A Year in the Life'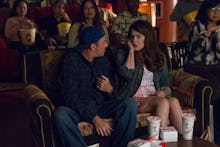 So you've watched all of Gilmore Girls: A Year in the Life, cried over Richard Gilmore's passing and been floored by the final four words. But did you really catch everything?
We've got a few Easter eggs that might have flown under a casual viewer's eye. Here are six bits and pieces from Netflix's Gilmore Girls revival, in case you missed them.
There are Parenthood and Bunheads alums everywhere. Lauren Graham was on Parenthood for six seasons; Amy Sherman-Palladino created the beloved-by-a-small-audience Bunheads. So they had no problem finding work for their former coworkers on A Year in the Life. Mae Whitman, Peter Krause and Jason Ritter (all from Parenthood) show up, the latter two rather humorously as park rangers in "Winter." The Bunheads alums, meanwhile, are everywhere, most significantly with Julia Goldani Telles as the eponymous creator of Sandee Says.
Both Carole King and Louise Goffin show up. King gets a meaty role in "Summer": Her main series character Sophie joins the Stars Hollow Musical committee. But her daughter, Goffin, who sang the Gilmore Girls theme song (a cover of King's "Where You Lead") with her, also appears in "Winter" as the infamous town troubadour's sister — also a troubadour.
A familiar musical motif: The song that plays during Luke and Lorelai's wedding is a familiar tune for hardcore fans of the show. Series composer Sam Phillips' song "Reflecting Light," a lovely strings-and-vocal tune, also played during Luke and Lorelai's first dance at Liz and TJ's wedding in season four, episode 21, "Last Week Fights, This Week Tights."
Sutton Foster and Christian Borle weren't the only Broadway stars. Theater devotees likely caught this, but Broadway actress Kerry Butler plays Claudia, Emily and Lorelai's therapist. This is played for a laugh in "Summer," as she auditions for the Stars Hollow Musical — only for Foster to beat her out.
Tristan wasn't really Tristan. Though the character of Tristan Dugray — Rory and Paris' season one love interest — appeared in "Spring," the actor who formerly portrayed him, Chad Michael Murray, did not. The One Tree Hill former star didn't come back for the revival, so Sherman-Palladino's team made do with body double Anton Narinskiy.
Paris' faces while Hep Alien is playing: This isn't so much an Easter egg as a bit of brilliant background acting, but it's still so worth noticing.