We need to talk about Rihanna's statement hat collection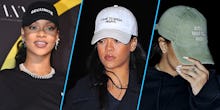 Make no mistake: Rihanna is the one of the greatest style icons of our time. 
She is our Audrey Hepburn. She is our Diana Ross. She is our Michael Jackson. She is all of them and then some, and that's because of her innate fearlessness to wear quite literally anything she wants, anywhere, and pull it off. 
To feed birds at 7:00 in the morning, she wore a puffy red heart as a coat. One of her go-to accessories is a wine glass filled with wine. She can even walk on metal sidewalk grates in stiletto heels without falling, like Jesus himself — if Jesus happened to live in New York City in 2016. 
Though her politically charged statement T-shirts earned her a lot of attention this past month, it's actually her extensive hat collection that's been regularly making us swoon. Because Rihanna, when slipping out of or into a club or restaurant, knows how to make a statement with just a swivel of her head. 
Here are some of our recent favorites, and a few old favorites as well.
Rihanna is, without a shadow of a doubt, a heartbreaker. You saw how Drake feels about her at the 2016 MTV Video Music Awards and how she curved away from his kiss. She's savage. 
So appropriately, here she is just letting you know what she's about, on a hat. Rihanna has worn this black and white "I came to break hearts" hat many times now, because she simply knows what she's about. You can get it here for $70. 
Before the above statement hat came to be, though, Rihanna was less explicit about her heartbreaking ways and more about the visual symbolism. 
With this lilac hat with a broken heart stitched on it, she wears a matching lilac dress and loose corset, as well as a large white parka. This picture was taken in May. Since it's never really that cold in West Hollywood, which is where she was snapped wearing this hat, this was clearly just Rihanna being dedicated to the look, while also letting everyone within a ten yard radius know what she's about. 
Sometimes you've just got to call a bitch out. A perfectly Rihanna way to do that is to get it stitched on a hat. For instance, this beautiful, remarkable, stunning, iconic, legendary "Bitch I Know You Know" hat, which was actually an item from her Anti tour merch. 
Really what we're wondering now is what this hat is in reference to. What is it that we know, that Rihanna also knows we know? Is it in reference to everyone knowing she and Drake were a couple? Is it in reference to everyone who's ever seen her for the first time being like, "Wait, is that Rihanna?" 
Rihanna, a woman of many secrets and mysteries, will probably never tell. 
Paul Blart: Mall Cop chic, am I right? 
This hat, probably worn for really no other reason other than that Rihanna just felt like looking like a gussied up security guard, tops her outfit off beautifully. She's wearing a long velvet skirt, a long-sleeve top that says "Securite" as well, and a massive diamond necklace. Securite, or Sécurité, by the way, is usually a distress call for boaters, and a word that comes before an important emergency message. 
And you know what's an important message? Rihanna's entire presence, essence and being. Maybe this was just a warning from her to us, letting us know that she's here, she exists and she's still fabulous. 
And you thought baseball hats couldn't be classy.
Here's Rihanna out in 2015, leaving a club in New York City. Rihanna is, if you couldn't already tell, a big fan of matching, and so she's pairing this white satin hat by an unspecified designer with a white bodysuit, a white miniskirt and a white purse. All we can really think about is how much sweat must be under that white satin hat, but no matter. 
Truly iconic. Truly. 
This hat is one part Burger King commercial and one part Guy Fieri's favorite shirts. 
We're going to ignore this disturbing discovery, though, and just focus on how well she pulls it off. It's beautiful. It's designed by the skateboarding company Thrasher (it's sold out, obviously) and it's covered in flames, which is appropriate because she wore it as she rose from the ashes, by which we mean she was returning to New York City after a vacation in the Barbados. 
In just the past two years, Rihanna has reinvented what it means to wear a baseball cap (also known as a dad hat) and make it your own. With just one simple accessory, she's able to tell everyone around her who she really is, and make you even question yourself. 
So, bow down, Make American Great Again hat, because Rihanna's here to show you how to make a statement worth making.