Meet the unsung heroes who devoted their lives to fight for people with disabilities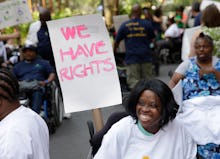 Earlier this week the Huffington Post reported the newly appointed attorney general Jeff Sessions once claimed that laws which integrated children with disabilities into public schools are the reason for "decline in civility and discipline in classrooms all over America."
The Americans with Disabilities Act, which celebrated 26 years in June, protects those with special needs from discrimination in employment, education and transportation. The work of a disability advocate often goes woefully underappreciated, but it would seem that in this new political environment, their work is needed more than ever.
These are a few of the people who dedicated their lives to disability advocacy: 
Helen Keller
Hellen Keller, who lots her hearing and vision in infancy, is known by many, but the depth of her advocacy for those with disabilities often goes relatively unsung.
Keller aided in the founding of the American Civil Liberties Union and the Massachusetts Commission for the Blind, the first agency to provide services to blind adults. At the Perkins School for the Blind, Keller raised money to establish a kindergarten for blind children.
Later in life, Keller lobbied for state-assisted programs to assist people with disabilities in job training and placement. She traveled around the world to pitch foreign governments the idea of establishing schools for people who were blind and deaf. 
Judith Heumann
Judith Heumann has dedicated over 30 years to advocating for the civil rights of people with disabilities. In 2010, Heumann was appointed a special advisor on disability rights for the U.S. State Department under President Barack Obama. 
According to the Christian Science Monitor, Heumann contracted polio when she was a toddler and has faced a lifetime of discrimination as a result of her dependence on a wheelchair. In one instance, her teaching application was rejected by the New York City Board of Education on account of her being, as they put it, a "fire hazard." She sued and became the first person in a wheelchair to teach in New York City.
"I had no choice because, as a disabled person, I was going to either have to get involved with changing the system that limited me or not participate in society," she told the Christian Science Monitor in 2011 of her decision to work in advocacy.
Before her appointment, Heumann worked as the director for the Department on Disability Services for the District of Columbia, where she had a lead role in the Developmental Disability Administration and the Rehabilitation Services Administration. 
Heumann served in the Clinton administration as the assistant secretary for the Office of Special Education and Rehabilitative Services in the Department of Education.
Ed Roberts
The late Ed Roberts, who suffered from polio, started off as the first "severely disabled" student to attend the University of California at Berkeley where he earned his bachelor's and master's degree. 
According to his New York Times obituary, Roberts aided in founding the Center for Independent Living in 1972, which allowed people with disabilities to have access to inventions to help them with everyday activities, like optimized motor vehicles that allow for independent mobility. 
"What we are is not super cripples but we are role models," Roberts told 60 Minutes in 1989. "We are examples of people who even with the most severe disabilities have been able to ... to lead fulfilling lives in the community and work, have families and overall play significant roles."
In 1983, Roberts helped found the World Institute on Disability. He traveled the world to speak on the philosophy behind people with disabilities living independently. In 1984, Roberts received a MacArthur Foundation grant that he used to fund his activities at the institute. 
Shortly after his passing, several advocacy organizations involved in the Independent Living Movement of People With Disabilities founded a nonprofit corporation in his name. California believed Roberts' influence was so powerful, they decided to make Jan. 23, Ed Roberts Day. 
Wade Blank
Wade Blank, a Presbyterian minister, founded the Atlantis Community, an independent living center which later gave rise to grassroots disability rights activist group ADAPT.
According to the Los Angeles Times, Blank was not living with a disability himself, but his work in a nursing home in the mid-1970s inspired him to pursue advocacy as his life's work.
According to the Independence Center, he was also a leading force in the national disability rights movement that lobbied to make public places, like buses and street corners, accessible to people with disabilities. 
Blank also advocated for people with disabilities to live independently instead of in nursing homes. He died in 1993.