Here are the 6 best debut albums of 2016: From Kaytranada to Nao and more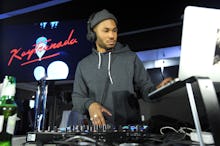 2016 was a memorable year in music, but we can't forget about the artists who released their debut albums this year. These up-and-coming artists are at the forefront of the some of the year's most interesting work and their albums shine. Artists like Kaytranada, Whitney and Nao delivered some of the freshest albums we heard all year, blending genres to make their own sounds. Here are the 6 best debut albums of 2016. 
Kaytranada, 99.9%
Kaytranada is one of Canada's hottest producers and on his debut album, 99.9%, the DJ comes into his own with his distinct R&B-electronic sound. It's an album filled with his own brand of dance songs, created by mixing up genres seamlessly, throwing together pop, funk, house and hip-hop to create an irresistible and eclectic dance album.
Nao, For All We Know
The 18 song debut album is one of the 2016's most interesting releases, fusing R&B and electronic into something original. Nao serves up the singer-songwriter vibe across the entire album and the result is an earnest and raw debut. Nao opens up about love and her life across the album on tracks like "Girlfriend," "Blue Wine" and "Fool To Love." You get a real sense of who she is as an artist and person. 
Margo Price, Midwest Farmer's Daughter
Country star Margo Price's debut album, Midwest Farmer's Daughter is sometimes as traditional as its title, but it puts a modern twist on the genre. The singer-songwriter mends old-school country with new-school, bringing us through those classic genre themes of love, death and everything in between.
Whitney, Light Upon the Lake
With the band's debut album, Light Upon the Lake, Whitney takes us on a trip back to '60s pop and the result is an infectious debut. Carried by the band's falsettos, Whitney's songwriter talent cuts across songs like "Red Moon," "Dave's Song" and the result is a youthful album that makes us long for summer nights with our friends while reminding us of the ones that got away. 
The Goon Sax, Up to Anything
The teenage Australian trio's debut album, Up to Anything, is a collection of modern indie pop songs. Songs like "Boyfriend" and "Ice Cream (On My Own)" display the band's youthfulness in their lyrics and sound. It is a clever debut album from the Goon Sax that is beyond the band's years.
Julia Jacklin, Don't Let The Kids Win
Australian singer-songwriter Julia Jacklin's debut album, Don't Let The Kids Win, is folk-pop at its best. Jacklin's voice shines on the record filled with honest songs about her life that forms a stirring and personal debut effort.