The 8 best TV comedies of 2016: From 'Search Party' to 'Veep'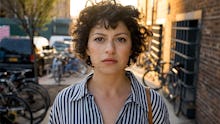 It was a standout year in television, and comedies were at the forefront. While dramas like The People vs. O.J. Simpson: American Crime Story, Westworld, Game of Thrones and The Good Wife captured our attention, comedies were doing just as interesting work.
Returning shows like Veep, Difficult People and Black-ish continued their streaks as some of the top comedies on television right now. But it was freshman series like Search Party, Insecure and Full Frontal with Samantha Bee that stole the spotlight. Here are the eight best returning and new TV comedies of 2016. 
Search Party
One of the breakout show of 2016, TBS's freshman comedy Search Party is centered around a handful of millennials who have to look for a college friend after their sudden disappearance. It's a quirky, dark comedy that pays homage to noir mysteries and stars Arrested Development's Alia Shawkat, whose stellar performance anchors the show.
Veep
With another season of HBO's Veep comes another reminder that it is one of the best comedies on television, and that Julia-Louis Dreyfus has earned every Emmy she's won over the past five years. Even with the departure of the show's creator Armando Iannucci, the show continued its winning streak. Without spoiling it for those who've yet to catch up, the season finale provided a great setup for what should be an interesting sixth season.
Insecure
HBO had a spectacular year with shows like Westworld, Divorce and Insecure. Insecure's first season is as confident as new shows can get. Following the trials and tribulations of best friends Issa Dee and Molly, the show is a moving and hilarious portrait of love and friendship. It's quick-witted and features a breakout performance from the show's creator and star, Issa Rae.
Difficult People
Hulu's Difficult People continued its specific and hilarious brand of pop culture-related comedy this year. The Billy Eichner and Julie Klausner vehicle skewers celebrity like no other show does or can do. It also continued to draw features spots from some of the biggest guest stars on TV, with cameos from Nathan Lane, Rachel Dratch and Julianne Moore. 
Black-ish
In the show's third season, ABC's Black-ish continues to be a true-to-life sitcom that uses headlines in its storylines in honest and important ways. The show manages to remain timely while upholding its timeless and classic appeal.
Full Frontal with Samantha Bee
The late-night landscape remains full of familiar faces, but Samantha Bee is here to shake things up. Bee, a former Daily Show correspondent, held nothing back for the first season of her own show. TBS's Full Frontal with Samantha Bee had an incredible debut season, skewering politics and rising to the top of the cultural conversation. Bee has a bold voice and is unlike anything else currently on television.
Broad City
Broad City's third season was another hilarious outing for Abbi and Ilana. The Comedy Central show returned for another strong season this year and put forth more of its as-yet unmatched brand of wacky comedy. 
BoJack Horseman
Netflix's animated comedy is maybe the silliest and smartest show on television right now. In the series' third season, BoJack Horseman continued to skewer our culture's obsession with celebrity, but it also touched upon topics like abortion — things an adult animated comedy typically doesn't discuss.