Beyoncé's 'All Night' features home video footage of her pregnancy, wedding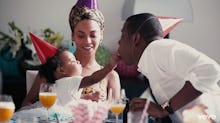 Beyoncé continues to slowly roll out individual videos from each chapter from Lemonade onto her YouTube channel, with the latest music video being for "All Night," which dropped on Wednesday, Nov. 30. 
Off her visual album Lemonade, which was released earlier this year, "All Night" is cut from the "Redemption" chapter on the album. The video gives fans an intimate look at Beyoncé's private life at home with Blue Ivy and Jay Z. The song within its chapter is about forgiveness and the power and celebration of love. 
The music video for the dreamy, Diplo-produced song is filled with home video footage from various life events of the Carters, from their wedding day to footage of Beyoncé's pregnancy. 
Jay Z's grandmother's 90th birthday
Early in the music video, we see Jay Z's grandmother's speech from her 90th birthday party, and the inspiration behind the title of the album. His grandmother, Hattie, shares her wisdom: "I had my ups and downs, but I always find the inner strength to pull myself up. I was served lemons but I made myself lemonade." 
Matching "IV" tattoos 
We get a look at footage of the Carters getting their famous matching "IV" tattoos on their ring fingers. The number four is a very symbolic number to them: It is their favorite number, the title of her fourth solo album, the day of both their birthdays (Beyoncé's is Sept. 4 and Jay Z's is Dec. 4) and their wedding day is April 4, 2008, which we also see footage of. We see the happy couple cutting their cake and Beyoncé feeding her husband a piece.
Beyoncé's baby bump
The most intimate footage in the music video is of a pregnant and happy Beyoncé showing off her growing bump. The footage is followed by a tender moment of Jay Z giving a kiss to baby Blue. 
Family time
The music video ends with footage of the family at a birthday party, complete with paper hats and Blue feeding her dad a piece of cake (clearly an ongoing theme). And in a moment that is too cute for words, we get to see Jay Z and Blue play with a football in an empty stadium, before one of Mom's Super Bowl performances.