David Petraeus would first need Trump to pardon him to assume role as secretary of state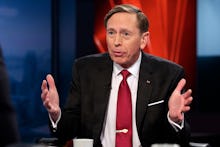 So far, Donald Trump has seemed content to let his candidates for secretary of state court him and demonstrate their devotion to the president-elect in order to earn his nomination. At least it looked that way to those who referred to former Massachusetts Gov. Mitt Romney's dinner with the president-elect as something of a "humiliating reversal." After calling Trump a "phony" and a "fraud" in March, Romney shared garlic soup and frog legs with the man he hopes will choose him for the job. 
But if former CIA director and retired general David Petraeus wants a shot at the position, he'll need more from Trump than sheer forgiveness. According to Newsmax, Petraeus would legally require a pardon from Trump in order to assume the role of secretary of state.
In 2012, Petraeus stepped down from his role as CIA director after pleading guilty to "mishandling classified information" by way of sharing documents with his girlfriend. Petraeus was slammed with a fine and two years of probation in 2015 — which means if Trump were to nominate him as secretary of state without a pardon, Petraeus would need permission from his probation officer to pass muster.
In fact, according to the Daily Intelligencer, Petraeus needs permission just to leave the state of North Carolina. 
"I say this as a friend of Gen. Petraeus, full disclosure, and a fan of Gen. Petraeus," retired judge Andrew Napolitano said in a Monday interview on Fox News. "At the time of his guilty plea, he admitted to taking federal government property. That would bar him from holding a federal office."
There's some degree of irony in Trump even considering a candidate for secretary of state who has been found guilty of sharing classified government documents. Throughout his campaign, Trump repeatedly called for the indictment of then-opponent Hillary Clinton for using a private email server during her tenure in the position. 
Even after a year and a half of FBI investigations turned up no chargeable offenses, Trump pledged to put Clinton in jail (a promise he's since abandoned as president-elect). 
Napolitano told Fox he thinks Trump may be willing to overlook Petraeus' misdeeds.
"Presidents usually pardon at the ends of their terms, because these pardons are often controversial, and they don't want to live with the controversy," he said. "Something tells me Donald Trump doesn't care about the controversy. He wants somebody and he wants to get him on the Cabinet."