Broadway Christmas Shows 2016: 10 holiday performances to catch in New York this December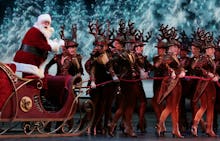 Rudolph, Scrooge and Nutcrackers galore can be found on stage in New York. The stockings are hung and the tree is up, but if you still feel like celebrating, it's the most wonderful time of year to enjoy some holiday entertainment. Going door-to-door singing Christmas carols might prove difficult in a city filled with apartment buildings, so why not check out some of the festive live performances New York has to offer? 
1. Holiday Inn 
An updated adaptation of the 1942 movie musical that starred Bing Crosby and Fred Astaire, Holiday Inn is packed with classic Irving Berlin songs and some special seasonal melodies, including routines featuring jumping rope with holiday garland and even on-stage fireworks. It's tap-happy holiday cheer at its best. Holiday Inn performs through Jan. 15, 2017 at Studio 54 on Broadway. 
2. The Radio City Christmas Spectacular 
What's Christmas without some high kicks? Since opening in 1933, the Christmas Spectacular has established itself as a staple of the holiday season, entertaining more than 75 million people so far. The performance is packed with dance routines for "The 12 Days of Christmas," a "Living Nativity" complete with live animals and the iconic "Parade of the Wooden Soldiers" routine. Fun fact: More than 1,100 costumes are worn in each performance. The Christmas Spectacular continues through Jan. 2, 2017. 
3. The Hard Nut 
This Nutcracker moves from the 1890s to the 1970s in Mark Morris Dance Group's The Hard Nut. Based on the comic book art of Charles Burns, this gender-bending, retro-modern adaptation, which runs through Dec. 18, includes some wild parties — and dancing G.I. Joes — with period costumes that are eye-catching, to say the least. 
4. Nutcracker Rouge 
This is not your childhood Nutcracker. If you're in the mood for something a bit more risqué, Company XIV's adaptation of the famous story, which features opera, circus and burlesque and runs through Jan. 7, 2017, is just the ticket. The story follows a young woman paying a visit to the Kingdom of Sweets that inspires her sexual awakening. While the costumes, which feature pasties and codpieces, may seem skimpy, the use of glitter is anything but. 
5. Rudolph the Red-Nosed Reindeer, the Musical 
The 1964 children's classic comes to life onstage at Madison Square Garden Dec. 7-18, as Santa and Mrs. Claus, Hermey the elf, Bumble the abominable snow monster and more go on a journey of self-discovery as Rudolph learns to be true to himself — and save Christmas while he's at it. 
6. A Christmas Carol 
There's no shortage of stories about Ebenezer Scrooge and the Ghosts of Christmas Past, Present and Future. The Muppets, the Care Bears and Jim Carrey have all brought the story to life on TV, film or theater. If you don't want to visit New York City, this production is held at the McCarter Theatre Center in Princeton, New Jersey. The production runs Dec. 9 through Dec. 31 and dives deep into the original source material, with the stage design and costumes drawing from Charles Dickens' original story. Even the crankiest of audience members can hardly say "Bah, humbug!" to this. 
7. Peter and the Wolf with Isaac Mizrahi 
Accompanied by Ensemble Signal, Isaac Mizrahi will bring this children's story about an adventurous young boy to life on-stage from Dec. 9-11. A cast of characters act (and dance) to Mizrahi's narration, all dressed in costumes dreamt up by the famous designer. 
8. Yorkville Nutcracker 
History buffs and city planners alike will enjoy The Yorkville Nutcracker, which is set in 1895 New York. The family party is held in Gracie Mansion, and the story moves to various city spots, including the Dakota, Central Park and the Botanical Gardens. Famous figures from New York's history also make appearances, including Teddy Roosevelt (dressed as a teddy bear, of course). Performances run Dec. 8-11. 
9. Jingle Ball 
While technically not on Broadway, this annual concert is a must-see experience. The event, which is held at various venues throughout the country in December, will include performances by Justin Bieber, Ariana Grande, DNCE, Fifth Harmony and Meghan Trainor, along with others in New York at Madison Square Garden on Dec. 9. 
10. George Balanchine's The Nutcracker 
Based on Alexandre Dumas' version of E.T.A. Hoffman's story "The Nutcracker and the Mouse King," George Balanchine's The Nutcracker is as festive as any holiday treat should be. With 90 dancers, 62 musicians and two casts of 50 students, the ballet, which runs through Dec. 31, will transport the audience to the land of sweets — one from which they may not want to return. 
Mic has ongoing holiday coverage. Please follow our Christmas hub.