Mike Pence's new neighbors are "welcoming" him with rainbow LGBTQ pride flags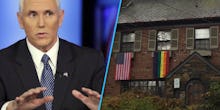 When Vice President-elect Mike Pence takes office in January he'll move into his designated residence on the grounds of Washington, D.C.'s Naval Observatory, but until then he's renting a $6,000-a-month-place in the D.C. neighborhood of Chevy Chase, CNN reports. And his new neighbors there have found the perfect way to welcome him to his new abode — rainbow LGBTQ pride flags.
Hanging up the flags, is "a respectful message showing, in my case, my disagreement with some of his thinking," Ilse Heintzen told WJLA. "I have no idea what [Pence] will think ... but I hope he will change his mind."
Over the course of his political career, Pence has taken hard stances against rights for LGBTQ Americans. While he was serving in Congress he argued that marriage equality would usher in "societal collapse" and said that being gay was a choice.
During his Congressional campaign, he fought to divert funds away from HIV and AIDS research, suggesting they instead be used for programs that "provide assistance to those seeking to change their sexual behavior," also known as "conversion therapy."
Such programs have been banned in several states, and the World Psychiatric Association has deemed them "unethical."
The pride flags popping up in Pence's temporary neighborhood may not have an effect on the policies and ideology of the vice president-elect, but they're a powerful message to Pence that not all of his new neighbors — or his millions of new constituents — will stand by to watch anti-LGBTQ discrimination become the law of the land.