Apple Maps vs. Google Maps: Government-approved drones are about to give Apple an edge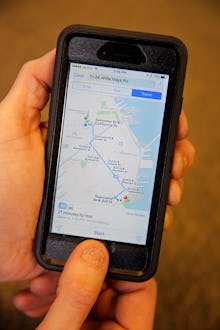 Google Maps is the leader in mobile navigation, thanks to Street View and its early implementation of mass transit maps. Apple, however, could close the gap with a newly approved fleet of drones working by its side. 
According to Bloomberg, the iPhone maker is purportedly constructing an arsenal of drones to capture aerial footage in an effort to improve its native Maps app. The drones will be able to better scan street signs and traffic changes in comparison to the fleet of camera-equipped minivans Apple previously utilized.
The report said Apple took the necessary steps to secure approval from the Federal Aviation Administration to collect data with the drones. Apple has yet to say anything about this — Mic has reached out and will update with any comment.
The photos and videos captured by Apple's drones could prove invaluable for its navigation software. A source close to the situation told Bloomberg the drones' information would be sent to Apple's team for swift and accurate updates to the Maps app utilized by iOS users all over the world.
Apple suffered early setbacks following the launch of Maps back in 2012. A number of errors and inaccuracies were reported, while Google's app continued to excel. Since then, Apple has steadily improved its program and the application of these drones could further refine its product going forward.