Netflix Offline Mode: 24 movies, TV shows to watch on an airplane or during your commute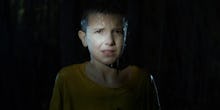 For some of us it's a struggle not to go over our allotted monthly data. And if you're at risk of this, especially in those last couple days of your phone plan, there's nothing that kills more than streaming videos. Fortunately, Netflix, following Amazon's example, has updated their app on Apple and Android phones and tablets to give subscribers the opportunity to watch their favorite TV shows and movies offline.
"While many members enjoy watching Netflix at home, we've often heard they also want to continue their Stranger Things binge while on airplanes and other places where Internet is expensive or limited," Eddy Wu, Netflix's director of product innovation said in a statement. 
On the app there is now a download sidebar, where a mix of original and old content is available to download. Netflix gives two downloading options: standard and higher quality. Standard quality takes less time to download and also takes up less space. Higher takes more time and space. 
Since announcing this service on Wednesday, Nov. 30, Netflix has said there's still more to come (the latest installment of Gilmore Girls is still not available), but until then, these are the shows available to download for the next time you're traveling on an airplane or commuting to work.
Of Netflix's original television content, some of titles you can get offline include: Stranger Things, The Crown, House of Cards, Lady Dynamite, Narcos, Unbreakable Kimmy Schmidt and Orange is the New Black. 
Other shows available to stream include Mad Men, Breaking Bad, The Office, The Flash, The 100, Supernatural and 30 Rock. 
Their movie selection is equally random. Kids movies available to download include Paddington, Minions and Kung Fu Panda. Some comedies featured are Love Actually, Leap Year and Moonrise Kingdom. Dramas available to view offline include Pulp Fiction, Boyhood and Nightcrawler. 
Netflix has yet to announce when other shows and films can be downloaded in the future, or what they will be.