The 11 best albums of 2016: From Beyoncé to Radiohead and more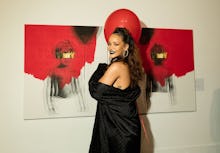 2016 was a standout year for music. A slew of our favorite bands and singers released some of their best work this year, and new artists stole the spotlight. Although we lost more than a handful of icons, the year in music reminded us why we fell in love with them. 
With a seemingly endless number of irresistible pop songs, several critically acclaimed rap albums and rock albums that continued to inspire the genre, music continued to evolve and shape our culture this year. Here are the 11 best albums of 2016. 
Beyoncé, Lemonade
Beyoncé released her magnum opus this year with Lemonade and once again made the world stop. Without doing many interviews and talking to barely any press, she still had everyone talking. On Lemonade, Beyoncé does all the talking. The biggest superstar on the planet is revealing like never before, giving fans a look at her diary and exposing her truths about her marriage, life and journey as a mother, daughter and wife. 
Rihanna, Anti
She told us she was a savage, and this year Rihanna made sure we wouldn't forget it with her eighth studio album, Anti. In a twist from her usual dance-pop sound we've come to expect and love, Rihanna switched it up and gave us a new sound, look and something entirely unexpected. While it's her most noncommercial effort — although "Work" spent nine weeks at No. 1 — the album is wonderfully moody and brooding, her most cohesive and confident work to date. 
Ariana Grande, Dangerous Woman
Ariana Grande broke free this year and gave us her most adult album yet. On her third album, Dangerous Woman, the petite songstress put together a large collection of pop smashes from beginning to end, showing her range as an artist. There's the pop masterpiece, "Into You," that carries us to the dance floor as soon as the beat starts pulsing; "Thinking About You" is the moodier, softer side to Grande we don't often get to see; and "Moonlight" is that big ballad album opener we've come to love her for. 
Kanye West, The Life of Pablo
The life of Pablo seems to be a complicated one. Kanye West certainly had a headline-grabbing 2016, making questionable statements during his tour and suffering a mental breakdown in November. While The Life of Pablo might not come close to being the rapper's best album, it is one of his most interesting and sonically daring efforts. West continues to push his own musical narrative by blending genres, sounds, lyrics and samples to create the most Kanye West record he can and we love him for it.
Chance the Rapper, Coloring Book
One of our favorite rap albums of 2016, Chance the Rapper stormed the scene with Coloring Book. The collection of gospel-inspired hip-hop songs is one of the most soulful, faith-fueled rap albums to come out this year and solidifies Chance's originality among his peers. 
Radiohead, A Moon Shaped Pool
Like Beyoncé, Radiohead unexpectedly dropped A Moon Shaped Pool. One of our favorite rock albums of 2016, it is one of the band's best efforts yet, as evocative and poignant as we've come to expect from them. 
Solange Knowles, A Seat at the Table
With A Seat at the Table, Solange Knowles gave herself a chair at the head of the table. The deeply personal album includes spoken word intros from both her parents, Mathew Knowles and Tina Lawson, giving us a rare inside look into the Knowles family with an R&B and soul sound that's all Solange.
Blood Orange, Freetown Sound
The third album from Dev Hynes, also known as Blood Orange, continues his off-beat and original sound that no one else is really doing right now. Freetown Sound is as ambitious as we've come to expect from him, a funky, electric-pop album that evokes the best of Prince's style and influence on music while making it his own. 
Frank Ocean, Blonde
Frank Ocean always makes us wait and it's always worth it. The singer's sophomore album, Blonde, is another impeccable effort. Soulful, insightful, inspiring and filled with emotion, Frank Ocean takes us through the roller coaster of life. While he hasn't veered far from his R&B sound, the four-year wait between Channel Orange and Blonde shows that he knows exactly what kind of artist he is and what kind of music he wants to make. 
Sia, This Is Acting
With This Is Acting, Sia gave us a look into the world of crafting the perfect song for some our biggest pop stars – unless they pass on it. The album is a collection of songs Sia wrote for other artists, like Adele, Beyoncé and Rihanna, that they passed on and she kept as her own. It's a very Sia album, with big sweeping ballads, soaring choruses and lyrics that are sometimes hard to make out, making for radical pop songs that don't really fit radio but have become smash hits all the same.
Angel Olsen, My Woman
With her third record, My Woman, Angel Olsen needs to know she is being heard. It's her most revealing, honest and darkest record to date. It's a complex compilation of songs that veer into varying genres like country, rock, soul and Americana, from a woman who knows her voice.