'Jurassic World 2' executive producer gives update on Bryce Dallas Howard's character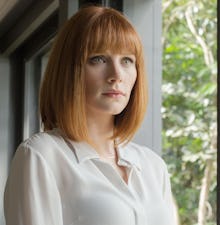 The park is going under some major renovations after 2015's blockbuster Jurassic World, and one of those changes is Bryce Dallas Howard's character's choice of footwear. 
On Thursday, executive producer Colin Trevorrow tweeted out a collage of practical footwear options for Howard's character Claire to wear in the sequel. 
This, of course, is a response to the criticism her character received for racing around in heels for the entire film and its 124-minute running time. 
The heels were a major point of discussion around the film. Many critics were bewildered as to why the character was in such impractical footwear and the issue became about sexism and the portrayal of female characters in action films and why wardrobe matters. 
There was so much criticism about it, that Howard defended it, saying "that's what women can do," and YouTuber XVP Comedy even went so far as to recut the trailer for Jurassic Park, putting every character in heels. The film's other star, Chris Pratt, donned heels on The Late Late Show with James Corden, poking fun at the backlash.
Other news on Jurassic World 2 is that Trevorrow is not returning as the director, but will be the film's executive producer. Stepping into Trevorrow's heels — sorry, shoes — is director J.A. Bayona (director of The Orphanage, A Monster Calls and The Impossible). Filming is set to start in Hawaii on Feb. 27, 2017, and the film is slated for release on June 22, 2018.