The faces of Standing Rock: 12 stunning photos of water protectors in North Dakota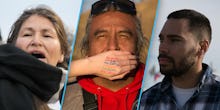 CANNON BALL, North Dakota — As I packed to head to Standing Rock, I watched video of militarized police using excessive force against water protectors on Nov. 20. In freezing temperatures, police officers were drenching unarmed people with water cannons, and throwing tear gas and concussion grenades at them. 
For months, activists on the Standing Rock Sioux reservation have demanded that the government stop the construction of the Dakota Access Pipeline, which plans to stretch 1,172 miles from North Dakota to Illinois. Water protectors from all over the country have joined indigenous people who are fighting to protect their land and keep the Missouri River safe from the risk of the Dakota Access Pipeline potentially polluting the water and their sacred lands with oil. 
By Thursday, Nov. 24, which many refer to as Thanksgiving yet most at Standing Rock call ThanksTaking, I was walking between camps at Sacred Stone, Rosebud and Oceti Sakowin to get a sense of the diverse and dedicated water protectors. One week after the violence on Nov. 20, at the same razor-wired bridge, Cheryl Angel led more than 400 women and men in silent, peaceful action. She led a powerful prayer meditation, inviting the police to join her in ceremony. The police respectfully did and there was no violence. 
Meet a few of the faces who were there in the following portraits:
Cheryl Angel, an elder of the Sicangu Lakota tribe who led a silent meditation one Sunday after violence erupted
"What we need is for activists to become spiritual and for the spiritual to become active," Angel said. "I will be a water protector for life." 
Maybell, a young leader who lives with Cheryl and other organizers
"This is how I wanted it to go, I didn't want anyone to be arrested today," Maybell said. "This was a prayer, this was peaceful. I think the spirit was with us today and it was all divine."
LJ, a Diné woman from Salt Lake City, Utah
"I have a lot of respect for the water," LJ said near the sacred river bed where the water ceremonies are held every morning. "It is powerful. That's our medicine."
Dave John, cocreator of Peaceful Advocates for Native Dialogue Organizing Support
"I like seeing all these tribes come together for support," John said. "That's what the Native community really needed."
Liz George, a water protector who is staying at Oceti until the end
"So many of the successful movements in history have been led in peaceful, prayerful, nonviolent resistance," George said. "I do think that this fight will be won if we maintain that attitude."
Nic and Kathy, a couple who reunited just moments after Nic was released from a Fargo jail
"I was genuinely surprised when I got arrested," Nic said. "It went from zero to 100. People were getting tackled and arrested who weren't even a part of the direct action."
"I can't, like, face the police," Kathy, from Beijing, said. "So close, and I don't know how I can deal with my emotion."
Rene, a fourth grade teacher from Sacramento, California
"When the media is naming us as protesters and rioters, they are dehumanizing who is really here: water protectors," Rene said. "We are women, mothers, grandmothers, children, teachers, nurses, lawyers. There are retired people — people from all spectrums of society are here."
Nevada, a local farmer who used to work in the oil industry
"I'm a farmer, I live about an hour away," Nevada said. "[My family] has no idea what happens in the oil field and the contamination that we're doing."
"When my mom passed away I kind of decided to take a stand for what's right," His mother died from cancer in the last year. "We only have one planet."
Joe and Natalie, a brother and sister duo from Yuhaviatam, a small tribe in California
"We're out here with a lot of other small tribes," Natalie said. "It's cool to stand together and make our voices heard."
"The earth is our mother, and I will protect her any way I can," Joe said.
Elijah, who works with Peaceful Advocates for Native Dialogue Organizing Support
"The protectors are to remain peaceful at all times," Elijah said when asked how being peaceful was going to win this fight. "At the end of the day, we need to make sure the sovereignty of Native peoples is respected, and using violence only hurts it."
Julie, an Aztec and Spanish water protector
"I've learned that when I'm silent, I get my answers," Julie said ahead of a silent march before meditating near Turtle Island.
John, who is half-Native American and Filipino 
"I came to Standing Rock to support the Natives," John said. "When Trump got elected, I was worried that the Dakota Access Pipeline would just go and people would forget. I would like to see our current president do something about this. Take a stand."