25 Days of Christmas premieres on Freeform on Dec. 1. Check out the schedule.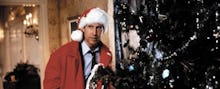 Break out the cookies and milk because Santa Claus is almost here. The countdown to Christmas is officially on as of Thursday, and Freeform is celebrating by premiering its annual 25 Days of Christmas event.
This year marks the 20th anniversary of the programming block, which has been on the air since 1996. The event originally ran on the Family Channel, which later became ABC Family. The name was changed to Freeform in January in an effort to grow with their audience. 
Despite the change, 25 Days of Christmas is still going strong. Christmas movies and other holiday favorites will air daily leading up to Christmas Day. Check out the schedule for Thursday below and click here for the entire 2016 schedule. All times Eastern.
3:30 p.m. — Willy Wonka and the Chocolate Factory
6 p.m. — The Year Without a Santa Claus
7:05 p.m. — National Lampoon's Christmas Vacation
9:15 p.m. — The Santa Clause
11:20 p.m. — Tim Burton's The Nightmare Before Christmas