Syrian man who dressed as a clown to bring joy to Aleppo's children killed in strike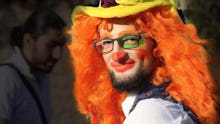 Anas al-Basha, the 24-year-old social worker who would sometimes dress up as a clown in Aleppo for Syrian children traumatized by the civil war, was reportedly killed Tuesday in a missile strike likely conducted by the Russian government. 
Al-Basha was the center director for Space for Hope, a group that supports children whose parents have died in the war. 
"He would act out skits for the children to break the walls between them," Samar Hijazi, al-Basha's supervisor, told the Associated Press.
"All of us in this field [of child care] are exhausted, and we have to find strength to provide psychological support and continue with our work," Hijazi added. 
Mahmoud al-Basha, who said he is Anas' brother, wrote the young social worker a farewell message on Facebook. 
"The Russians and Assad regime killed my brother, Anas," Mahmoud wrote Wednesday. "[He] refused to leave Aleppo and decided to stay there to continue his work as a volunteer, to help the civilians and give gifts for the children in the streets to bring hope for them."
The post suggests Mahmoud had not seen Anas in months, as he lived in the part of Aleppo besieged by rebels and under heavy bombardment from the Syrian government and Russia. 
Anas' parents fled the city before it was closed off, yet he chose to stay behind and provide support to those devastated by the war, the Associated Press reports.
A brief ceasefire on rebel-controlled eastern Aleppo ended in early November, leaving the cordoned-off portion of the city ravaged by missiles and airstrikes.
Shortly after the violence resumed, Aleppo's last functioning hospital was bombed. "More than 250,000 men, women, and children living in eastern Aleppo are now without access to hospital care following attacks on the remaining hospitals over the last week," the World Health Organization said in a statement on Nov. 20.
Anas married just two months prior to his death. His wife is still in eastern Aleppo, with around a quarter million others, unable to leave.