'Star Wars: Battlefront' 'Rogue One' Trailer: New DLC features Jyn Erso, the planet Scarif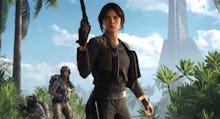 A new trailer for Star Wars: Battlefront's Rogue One-themed expansion arrived on Thursday to brighten up your week. It shows off the DLC's new heroes, a gorgeous new planet and some cool new vehicles.
Star Wars: Battlefront Rogue One: Scarif DLC brings new characters, weapons, vehicles and more
Here's the full rundown of what buying the Rogue One: Scarif expansion will get you:
New planet
— New maps on the tropical planet Scarif from the Rogue One film
New heroes
— Jyn Erso: The protagonist of the upcoming Rogue One film played by Felicity Jones
— Orson Krennic: The film's villain, played by Ben Mendelsohn
New weapons
— A180: Jyn Erso's blaster, which can be "swiftly reconfigured into a blaster rifle, sniper rifle or ion launcher," according to the game's website
— DT-29: Orson Krennic's heavy blaster
New vehicle
— The U-wing featured in the Rogue One movie
New "Infiltration" mode
— The new DLC will include a new "multi-stage" mode called "Infiltration," which seems like it will include both on-foot shooting gameplay and vehicle-based gameplay.
New star cards/power ups
— Sonic Imploder: "A sound-based hybrid grenade that temporarily blinds enemies, in addition to lowering their armor rating. The Sonic Imploder also damages any enemies in its immediate vicinity."
— TIE Striker: This power up for Imperials allow players to "call in the devastating TIE Striker to make strafing runs on nearby Rebel targets, clearing out heavily fortified enemies."
— U-wing: This power up for Rebels allows players to "take control of the U-wing's gunner position to rain down damage on the Imperials as it circles the battlefront from above."
Check out the full trailer for the Rogue One: Scarif expansion below, which will be available for owners of the $30 season pass on Dec. 6 and available for individual purchase on Dec. 16.
For more information on the weapons, new game mode and vehicles included in the expansion, check out the game's official site.
Star Wars: Battlefront Rogue One: Scarif DLC trailer
More video game news, updates and guides from Mic:
For more video game news, check out the latest from Mic, including the latest on Pokémon Go, Pokémon Sun and Moon, Overwatch and Final Fantasy 15.