7 breathing GIFs to help you calm down and take a moment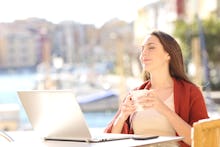 GIFs can provide a source of entertainment, but the looping images can also assist with so much more. Take this viral GIF from October 2015, for example, which many watched to cope with anxiety.
If you're having Donald Trump-related anxiety — or any other anxiety — here are some other loops that could achieve similarly relaxing effects.
8 calming breathing GIFs  
This little droplet into a cosmic ocean is calming AF. 
Or what about this explosion and subsequent erasure of monochromatic roots?
Black and white is becoming a theme here. This time, instead of the emptiness of space, a drop falls into a barren desert and spreads life and positive vibes.
This psychedelic tree has us so chilled out right now.
More drops, more deep breaths:
Just... wow. What did people do before GIFs?
Last, but not least, breathe calm and steady like a heartbeat — and then remember you are loved.