Netflix Christmas movies 2016: 25 holiday classics to watch this December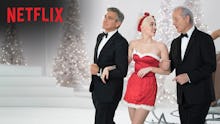 The easiest way to spread Christmas cheer is to lock yourself in your room with a bunch of snacks and binge-watch your favorite holiday movies. Thankfully, Netflix has an endless amount of titles for you to enjoy this year.
We've compiled a list of the 25 Christmas movies to watch on the streaming service this month. So, plan according and make time to watch all of these titles this December.
Bad Santa (2003)
Raunchy Christmas movies are a dime a dozen, but Bad Santa is one that really goes all the way. Billy Bob Thornton plays a con man who gets a job at the local mall as Santa and scams his way into the mall's security system to rob its stores blind. 
Trading Places (1983)
One of the top brokers (Dan Aykroyd) is fired and framed for a crime when his bosses try an experiment to see what really makes a person successful by hiring a nearly broke guy off the streets (Eddie Murphy) to replace him. All of the mayhem takes place over the holidays, of course.
A Russell Peters Christmas (2011)
The hilarious comedy Christmas special from comedian Russell Peters features Pamela Anderson, Ted Lange, Jon Lovitz and Scott Thompson in numerous sketches.
While You Were Sleeping (1995)
In this very '90s romantic comedy, Sandra Bullock stars as Lucy, a token collector who's lonely until she saves a man's life one day at the subway. She instantly becomes part of his family after being mistaken as his wife, and a holiday romance is born. 
Serendipity (2001)
John Cusack and Kate Beckinsale star in this too cute rom-com about destined lovers who test fate. They meet while shopping for gifts for their respective partners at the time, but there is an instant spark and they split up to see if destiny will reunite them in the future. 
Scrooged (1988)
This modern take on A Christmas Carol starring Bill Murray is an all-time classic. Murray plays a self-centered and cynical TV executive who is haunted by three ghosts on Christmas Eve who all have lessons to teach him. 
Miracle On 34th Street (1994)
The remake of the 1947 classic stars Mara Wilson as a young girl who, even though she is past the age of believing in Santa, meets a man who she knows is the real Santa Claus and is on a mission to prove it. 
Christmas with the Kranks (2004)
Like most of us, the Kranks are looking to avoid the holidays in Christmas with the Kranks, starring Tim Allen and Jamie Lee Curtis. The couple tries to go on a vacation during Christmas, except their daughter is unexpectedly coming home and changes everything. 
Beethoven's Christmas Adventure (2011)
In the umpteenth Beethoven sequel, an elf accidentally takes off in Santa's sleigh and lands in a small town, losing Santa's magic bag. No need to fear, as Beethoven is there to save Christmas.
Snow Day (2000)
This underrated family gem is thankfully streaming on Netflix. A local school in New York has been snowed in thanks to a record-breaking storm, and a handful of students plan to ensure it stays close by stealing a snowplow, living every person's childhood dream. 
Love Actually (2003)
The ultimate romantic comedy intertwines several stories about finding love and dealing with heartbreak over the holidays. The film boasts an all-star cast featuring Keira Knightley, Laura Linney, Emma Thompson, Hugh Grant and Colin Firth and has become a holiday staple. 
Last Holiday (2006)
Queen Latifah plays a woman who just finds out she is terminally ill. Done living her life with reservations after finding out the devastating news, she sells off all her possessions, takes a trip to Paris for an unlimited amount of time and rediscovers herself. 
White Christmas (1954)
The ultimate holiday classic, White Christmas, stars Bing Crosby, Danny Kaye and Rosemary Clooney who sing and dance their way into your hearts. 
Happy Christmas (2014)
In this off-beat, mumblecore comedy from director and writer Joe Swanberg (Drinking Buddies, Easy), Anna Kendrick stars as a woman who moves in with her sister after a bad break-up and discovers herself along the way.  
12 Dates of Christmas (2011)
Amy Smart stars as Kate, who goes on a blind date on Christmas Eve with a great guy (Mark-Paul Gosselaar) in an attempt to get over her ex. Only she wakes up the next morning to continue living that same day over again, realizing she needs to make a decision to move forward or backward in life. 
A Very Murray Christmas (2015)
Celebrate the holidays with this Sofia Coppola-directed Netflix Christmas special starring Bill Murray with cameos from Amy Poehler, Maya Rudolph, Chris Rock and performances from George Clooney and Miley Cyrus.  
Just Friends (2005)
Ryan Reynolds plays a former outcast who returns home for Christmas only to out that regardless of his changed lifestyle and major success, he's still friendzoned, tortured and bullied. What shines here is the fantastic comedic pairing of Reynolds and Anna Faris, who plays the hottest reality-star-turned-pop-star on the planet.
BoJack Horseman Christmas Special: Sabrina's Christmas Wish (2014)
In this special holiday episode of Netflix's critically acclaimed comedy, BoJack and Todd get together to watch a Christmas episode of Horsin' Around to properly celebrate the holidays. 
The Ref (1994)
In this twisted dark comedy, Denis Leary stars as a burglar who unfortunately has to deal with an annoying couple (played by Kevin Spacey and Judy Davis) when he takes the couple hostage. They're driving him insane and things take a turn for the worse — for the burglar.
Saving Santa (2013)
One of Santa's stable elves is the only man for the job to stop an invasion of the North Pole. This animated movie that involves time travel to save our beloved Santa, has an all-star voice cast, featuring Martin Freeman, Joan Collins and Tim Curry. 
Holidays (2016)
If you're looking for a break from all the cheer, try this horror anthology that puts a twist on all your favorite holidays and that will surely keep you awake counting sugar plums.
Ernest Saves Christmas (1988)
A wonderful addition to the franchise, our beloved Ernest tries to help Santa Claus find a successor but can't screw this up — or else there is no more Christmas. 
Angels in the Snow (2015)
It takes a Christmas miracle to hold this crumbling family together in this sweet tale of bringing those closest to you closer during the holidays, starring Kristy Swanson and Chris Potter. 
The Legend of Frosty the Snowman (2005)
The legend continues when Frosty the Snowman goes to the town of Evergreen, where the mayor is putting a ban on any magic talk, except Frosty shows everyone magic is real. 
Mickey's Once Upon A Christmas (1999)
No Christmas is complete without a little Disney magic. Join all your favorite characters like Mickey, Minnie, Donald Duck and Goofy, as they take us through several different holiday tales.