Padma Lakshmi's secrets for hosting a holiday party — just like she hosts 'Top Chef'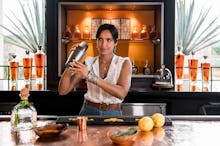 All of the guests have arrived, perhaps grabbing something within their budget at Whole Foods on the way over. They're ready to be judged, stuff themselves with impressive light bites and the host is somehow smiling amidst the chaos, joy, anxiety and love that is flowing through the room. 
No, this is not Top Chef Season 14, this is your holiday party. But really, they're kind of the same thing. Just ask Padma Lakshmi, who has expertly hosted Top Chef since its second season. 
"Hosting a holiday party is similar to hosting Top Chef because you want to make everyone feel comfortable," Lakshmi said in an interview. And beyond the goals of your holiday extravaganza, you'll have the same cast of characters. 
"You've often got that grumpy uncle who really has a heart of gold but can be a little cantankerous," Lakshmi said, not naming the guy who comes to mind (rhymes with Shmolicchio, we're pretty sure). "You've got the new guest, i.e. a guest chef who comes to judge the show, who not everyone knows but he's a little shy. You've got the wingman or woman, Gail, who will usually help you in the kitchen and make sure everything runs smoothly." Everyone needs a Gail, including Oprah.  
"And you've got all these children running around wanting to win, who you hope won't break anything," Lakshmi laughed loudly. 
After many seasons of filming Top Chef, Lakshmi can confirm that hosting a major cooking competition and hosting a party with friends are "not very dissimilar," except one is also being filmed to air at a later date, of course. "And [Top Chef] has commercial breaks, which sometimes I wish my parties would have," she laughed. 
So how do you master Lakshmi's effortlessly cool, incredibly poised hosting persona? 
"As a host, you have to keep an eye on the whole room and put out potential fires," Lakshmi said. "You have to know when to step in before two people get in a huge altercation or know when to step back so someone else can shine and their opinions can be heard." 
As you've seen Lakshmi demonstrate as she tastes Quickfire dishes, "encourage or amplify a good conversation that's going on ... You just want to make sure everyone's happy and content no one is going off the rails and make sure everyone is well fed." 
Though professional chefs may not be cooking up your next holiday meal, the urge to stuff your face with grandma's best recipes is still persistent. When asked about advice for being able to fit each dish in your stomach, Lakshmi came up empty. 
"I have no trouble pacing myself!" she said. "One thing Top Chef has done has made me a marathon, Olympic-sized eater," she said. "I never have to go to a party and go 'let me pace myself.'" We could only be so lucky.
Cocktails, however, are a different story, and Lakshmi does try to pace her beverage consumption. Her best advice before a night of drinking: Don't drink on an empty stomach. "Even if you have to eat something before you leave [the house]," she said. "Eat before so you can drink without harming your own health or getting too tipsy." 
If you do get too tipsy, Lakshmi has a cure for that: A BLT with fried eggs. Always.
What's getting Lakshmi buzzed before her hungover morning BLT? Tequila! 
"I prefer drinking something clean, something that's not too sugary," she said. "My spirit of choice is always tequila." 
After the holidays, don't expect this host's January to dry up. "I don't make New Year's resolutions," she said of the pending Dry-nuary season. "I'm a parent, so my new year starts in September, I don't think of that as my new year. The only person who thinks that is my tax man!"
And to qualm all that new year tax anxiety (sorry), you drink! 
Here's Lakshmi's go-to margarita, which pairs well with tax prep, Top Chef binge watching and all your cozy nights of holiday drinking. Good luck, chefs. 
Padma's Margarita Recipe: The Ginger Turmeric Margarita
Margarita:
2 oz Patrón Silver (Patrón has partnered with Top Chef for its upcoming season)
1 oz Ginger Turmeric Simple Syrup*
1 Tablespoon fresh lime juice
3-4 Fresh mint leaves
*Ginger Turmeric Syrup:
1 Cup water
¾ Cup sugar
4 Inches fresh ginger root, peeled and sliced
1 Teaspoon turmeric powder
Rim:
½ Teaspoon ground turmeric
½ Teaspoon Ancho chili powder
2 Teaspoons coarse salt 
Method:
In a small saucepan, combine sugar, water and sliced ginger. Place over medium heat and bring to boil. Cook until sugar dissolves. Let steep for at least 10 minutes. Add the turmeric powder and stir until incorporated. Strain syrup through a coffee filter.
Combine ancho, turmeric and salt on a small plate and mix to combine. Wet the top of a rocks glass with a wedge of orange and dip in spice mix. Tear mint leaves and add to a cocktail shaker with ice. Add the Patrón Silver, lime juice and ginger turmeric syrup and shake vigorously.
Pour into prepared rocks glass and garnish with an orange wedge.